D-Line brings aesthetics to fire and security trunking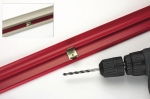 D-Line has developed a range of surface-mounting trunking for fire and security installations to satisfy the requirements of British Standards and meet aesthetic requirements. The system is quick to install and has a patented hinged lid that click locks, new clip-over bends and T accessories. This trunking has a semi-circular profile and measures 30 x 15 mm.
Cables and trunking are secured by a FCLIP that satisfies the requirements of BS 5839 Part 1 by being able to withstand the same heat as the cables. To secure trunking to the surface, the installer drills through the clip to fix it and the trunking. These clips can secure two 1.5 mm2 2-core fire-performance cables. Clips can be fixed anywhere along the trunking to satisfy requirements for 300 mm spacing for horizontal runs and 400 mm for vertical drops. The clips are said to be much easier to install than the traditional P clips.
The trunking is self-extinguishing, but even after its melting point, the FCLIP can withstand the same temperatures as the fire-rated cables.
Related links:
Related articles: