Advanced Air reduces energy use of fan-coils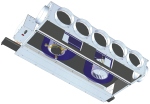 Advanced Air's energy-efficient Epic range of fan-coil units has specific fan powers as low as 0.15 W/ls on VAV models and 0.2 W/ls for constant-speed units. The fan-deck arrange is said to be unique in having large EC fans mounted horizontally rather than vertically, as has been traditional practice for 50 years.
Mounting motors horizontally enables much larger EC motors to be used — 250 W compared to 75 W. With the use of a larger EC motor, many duties can be covered using a single fan, giving a much lower SFP at a lower cost.
Larger fans can also be run at a lower speed, reducing NR (noise) levels.
Units can also be made thinner, and Advanced Air is working on a range of slimline units with heights as low as 165 mm. Some purpose-made units have an even lower profile.
Working with its motor supplier, the company has developed a smart card to make the fan unit pressure independent so the required air volume is delivered irrespective of downstream pressure. Air volumes can thus be preset at the factory, minimising on-site commissioning and requiring only fine trimming to balance the system.
Related links:
Related articles: