Ledaire offers free kitchen survey for schools and colleges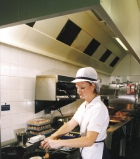 Following surveys by Ledaire in the kitchens of 40 schools across a London borough which found that none of the complied with current Government legislation for kitchen ventilation systems, the company is offering schools and colleges the opportunity to have a free no-obligation survey of its catering areas carried out. The company stresses that it is essential that installations comply with the DW/172 stand for kitchen ventilation system and guidance such as that set out in the TR17 guide to good practice and cleanliness of ventilation systems.
The scope of the survey covers the design and physical condition of each hood or canopy and the serviceability and efficiency of its extract system. It will ensure that island or wall-mounted installations offer adequate overhangs, promote cleanliness, will not permit condensation to drip onto anything below and that any risk of fire is addressed.
Related links:
Related articles: