Effective water treatment
Poor water quality can cause many problems in HVAC systems. Ian Barnes of Sentinel Commercial outlines best practice for system water treatment and suggests how the right choice of solution can streamline costs and ensure peak performance.
Legislation is pushing building owners and operators towards increased safety and energy efficiency in building services systems. For example, the recast European Performance of Buildings Directive (EPBD) has broadened the reach of Display Energy Certificates (DECs), opening up more building operators to scrutiny of their energy plans — and you cannot achieve good lifecycle performance without a planned maintenance strategy that includes water quality to keep building-services systems working efficiently.
In addition, the Ecodesign of Energy Using Products Directive (ErP) comes into force at the start of 2015, with new requirements for complete system lifecycle efficiency that complement existing standards for individual appliances.
Against this shifting legislative landscape, of course, is the continued pressure on maintenance budgets as the recession rumbles on, which provides a difficult backdrop for any change potentially requiring new spend. But there are benefits in planned maintenance that go beyond mere compliance and can balance out such investment. It is therefore important that budgetary decision-makers understand the link between improved water quality and energy efficiency, as this can encourage them to take a longer-term approach, particularly as energy prices continue to soar.
Since October 2008 DECs have been required in all public buildings over 1000 m2. From next year this will be extended to 500 m2 premises, and later it will also cover smaller buildings — eventually becoming necessary for the entire commercial building stock. This puts heavy emphasis on 'actual' energy performance as opposed to the 'as designed' (or intended) values, which are outlined in Energy Performance Certificates (EPCs). The startling disparity shown between what many UK buildings should consume and what they actually use has increased the pressure on building owners to take this issue more seriously.
A building that is projected to perform as C rated, but in fact comes in at E or F, will seriously disappoint in terms of running cost. What many owners and operators do not recognise is that the energy-consuming appliances and building-services design may be perfectly adequate, but it is the ongoing running and maintenance that creates this serious drop in performance.
This significant impact on efficiencies is just one reason why financial controllers should not regard planned maintenance as simply a legal box to be ticked but as a major contributor to the efficient operation of their building.
In terms of the building services, good water quality reduces system breakdowns — so minimising downtime, costly repairs and complaints from building occupants. The menu of options to solve these problems includes flushing solutions for initial cleansing, chemical dosing designed to maintain recirculating heating systems in a permanent state of cleanliness and physical devices that alter the scale-forming chemistry of the water to prevent water heater problems. It's very much a horses-for-courses situation, so depending on whether you need to maintain water quality in a closed or once-through hot-water system, you would need to look at either a suitable chemical product or an electrolytic physical device.
When it comes to chemical treatments, it is important that they are specifically designed for the system in question, and are OEM approved. For example, using a product intended for heavy-duty industrial applications in a high-efficiency commercial system could result in more harm than good, as some industrial chemicals are primarily designed to protect different materials to those often found in commercial systems.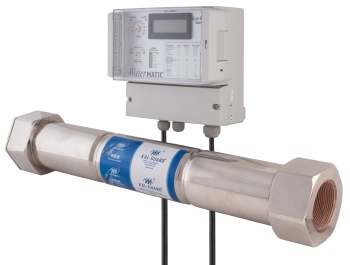 It should also go without saying that the right type of commercial system inhibitor for the application should be chosen. Those designed specifically for solar-thermal systems are different to those used in heat-pump applications, and different again to those used in more traditional gas or oil boiler-fed systems. The manufacturer's instructions for initial dosing and maintenance dosing should always be followed.
If the building in question would benefit from limescale protection, typically those with once-through hot-water generation, consider a physical device which alters the scale-forming chemistry of the water. Such devices 'condition' water by delivering a very low level of stable zinc into it, via an electrolytic process using a zinc anode and a copper cathode. This encourages the naturally-occurring calcium-carbonate to form as soft non-deposit-forming Aragonite rather than hard, deposit-forming Calcite, helping heating surfaces and pipework stay limescale free. Look for a product that can be installed on a rising main (to mitigate installation costs, as only one unit is required for the whole building), and offers WRAS approval (so that a separate drinking-water supply is not required).
Aside from the budgetary and legislative pressures, the increasing use of renewable technologies has created new maintenance challenges — and an element of new knowledge may need to be assimilated.
For example, the glycol in solar thermal and heat pump systems can deteriorate rapidly if it is not effectively 'inhibited', or if systems are contaminated or not operated correctly, and this can impact on efficiency and cause unnecessary damage to the systems. For this reason, it is important to manage the operation, monitor the system fluid and treat the glycol mix to maintain its quality.
The changing legislative landscape and more varied range of building-services systems — not to mention the drive for efficiency and cost saving — is why it is important that each system and building is looked at in context .
Consultants should therefore involve specialists at an early stage to help them draw up a system maintenance strategy as part of their overall building-services design and which forms part of the system handover process once occupants move in.
Having the system cleaned and ready to go is an excellent start, but it is just that — a start. To maintain good system performance from cradle to grave you can never afford to fill, forget and walk away.
Ian Barnes is head of Sentinel Commercial.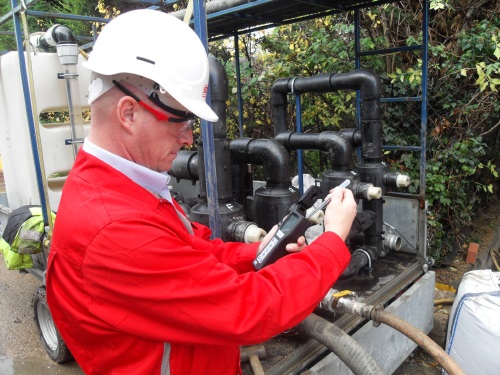 Related links:
Related articles: