Heat pumps prove their worth for commercial heating

With increasingly tough legislation affecting the operation of commercial buildings, is the time right for commercial heat pumps? Mitsubishi Electric's Martin Fahey highlights examples of where air-source heat pumps are demonstrating that they can deliver in the boiler room.
Air source heat pumps are slowly and steadily making inroads into the heating sector as more realise the low-carbon potential of this alternative to oil and gas heating. However, much of the growth so far has happened in the housing market. In the commercial sector, heating for buildings still relies heavily on traditional carbon-intensive technologies. Nevertheless, modern air-source heat pumps have now proven themselves as a viable alternative to gas and oil, delivering reliable, low-cost and low-carbon heating — as long as they are specified correctly and installed into appropriately insulated buildings by fully trained and qualified heating engineers.
I think it is important to state this simple fact right from the start, because air-source heat pumps work in a different way to gas- and oil-fired boiler systems, and anyone specifying, installing or operating this technology needs to understand this.
Air-to-water heat-pump systems operate most efficiently at lower water temperatures, and it can sound counter-intuitive to most people that they can effectively heat their buildings with flow temperatures of 35 to 40°C when we are all used to radiators that are too hot to touch.
In a properly insulated building, though, air-source heat pumps will provide all the effective heating needed — even in retro-fit situations and even in the harshest of winters. They can also be added to existing systems to supplement the heating and meet renewable-energy requirements.
We have examples of our Ecodan heat pumps being used in Victorian and pre-Victorian solid-brick buildings that have been brought up to modern building standards, and these systems cope well. Both of these are residential properties but commercially, whilst the growth of heat pumps has been slower, there is no reason why the same principles cannot apply.
We have now seen air-source heat pumps installed in numerous commercial applications — including schools, high-rise flats, showrooms and offices. They have also just been used in a community heating system for a homeless centre in Lewisham, so there are no bounds now to where it can be used commercially.
In our case, we can offer heating from 5 kW right up to 688 kW using systems that connect seamlessly together to deliver reliable, year-round heating.
For the homeless charity St Mungo's in Lewisham, three Ecodan CAHV units are connected together to deliver 129 kW of heating for 24 newly-built flats for the homeless — plus meeting rooms, classrooms, offices and a health centre.
The units are delivering savings of up to 15 to 20% on running costs and offer similar CO2 savings over an equivalent gas-fired heating system.
The installed system also meets the Renewable Energy Directive minimum seasonal COP (coefficient of performance) and will deliver in the region of 260 MWh of annual heating to the residential community system and around 62 MWh of hot water — representing a large contribution of renewable heat to local and national targets.
In developing the unit, we started by tackling one of the known limits of air source heat pumps — the defrost cycle — so that heating capacities can be maintained accurately and reliable heating guaranteed.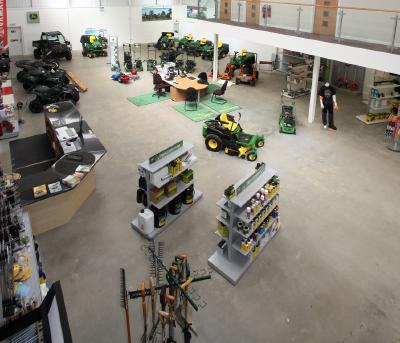 This is achieved using two separate refrigerant circuits in each unit, allowing one to stop working whilst the other continues. At standard conditions of 7°C, the CAHV unit will achieve a COP of 4.13 at a flow temperature of 35°C — a performance that has been independently tested at BSRIA to EN14511.
Commercial projects face increasingly tough planning regulations on the use of renewable technologies, and legislation on energy use in our buildings will become even more stringent.
As a manufacturer, we are seeing a huge increase in interest for commercial air-source heat pumps and now have several live examples of their installation in schools and commercial premises, where the technology has helped meet planning requirements.
In the case of P. Tuckwell, a John Deere tractor dealership in Essex, two 43 kW Ecodan CAHV heat pump systems are providing a sustainable solution for the company's new 65 m2 showroom in Colchester. There is an underfloor system in the showroom, and offices are heated by radiators.
Joint managing director James Tuckwell has said that the company was aware that fossil fuel resources are finite and supplies are dwindling, which is why they selected a heat pump system.
The company has now reported a definite reduction in its energy consumption and quarterly bills, and the heat pumps have also helped to reduce the company's carbon emissions and introduce an element of future-proofing to the building.
The system at Tuckwell can deliver 86 kW of heat at an ambient temperature of -3°C, with minimal drop off down to -20°C, including defrost. For every 1 kWh of electricity used to power an air-source heat pump, up to 3.2 kWh of heat can be delivered to the building — 69% of which is renewable energy.
There are numerous other examples of Ecodan being used for commercial situations. Having installed heat pumps in an extensive range of commercial and domestic buildings, we know that they can make a dramatic difference to carbon emissions and running costs.
We would be happy to talk to anyone who still dismisses air-source heat pumps as a viable option for the commercial sector as we realise what an increasingly important role they have to play in helping our building stock become more sustainable.
Martin Fahey is sustainable-solutions manager with Mitsubishi Electric.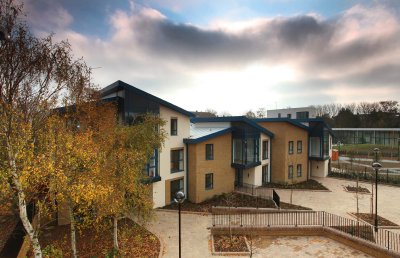 Related links:
Related articles: