BREEAM scrutinised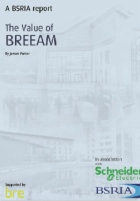 A report on 'The value of BREEAM' (BR 42/2012) assesses the value that can be derived from a consistent approach to measuring and benchmarking the design and performance of buildings. It is based on independent research funded by Schneider Electric and undertaken by BSRIA with help from BRE Global.
Face-to-face and telephone surveys of client options were conducted, along with web surveys of construction professionals and the supply chain.
Overall, the responses were positive. Most (88%) though the concept was good but that there was room for improvement. The research found that most value could be gained by thinking about BREEAM at project inception. Higher ratings can be gained more easily, and it is potentially a cheaper process. Many felt that improvements could be made by making the scheme simpler and more flexible.
Related links:
Related articles: