Preparing for the Energy Related Products Directive

Many types of boiler could disappear from the commercial market as the Energy Related Products Directive takes effect. Bob Walsh of Hamworthy Heating looks at the potential implications for the heating industry.
Introduced as part of the EU's commitment to reduce carbon emissions, the Ecodesign of Energy Related Products (ErP) Directive is aimed at phasing out the lower-performing energy-using products from the market. The directive covers a wide range of products for domestic and commercial use, including electrically-powered products. Separated into lots, the directive will set out specific requirements for all products that consume energy. At Hamworthy we are particularly concerned with Lot 1 for boilers, and Lot 2 for water heaters.
The changes will be implemented in two phases — the first within a year of the regulation coming into force, and the second phase within three years.
Being introduced alongside ErP, and contributing to the hold-up, is the Energy Labelling Directive — which will require ErP product groups to display a label portraying energy-efficiency ratings with a 'grade', like domestic white goods do.
With delays in the Ecodesign regulatory committee meetings and disagreements within member states on the Energy Labelling Directive, the implementation for phase 1 of ErP is still uncertain, but likely be the first quarter of 2013. However, there has been no sight of a finalised document and no commitment to provide a date.
This is not acceptable behaviour and is creating a bit of a hiatus in the industry. The cause for concern is that when the directive finally comes out of the oven, it will already be cooked. Until then, however, no-one knows exactly what the final ingredients are. If this is the case, it will be very difficult to backtrack and make amendments.
The requirements for Lot 1, which includes fossil-fuel boilers with rated inputs from 70 to 400 kW rated, will have a significant impact on the commercial boiler market.
In fact, under the new directive, we believe the boiler market faces a potentially massive shake-up, with efficiency bands gradually tightened from the present 84% to 88% by 2015.
That 88% level goes to the limits of what is achievable. It essentially encourages a new mindset within the industry, whereby to make products that are compliant, newer technology needs to be implemented. As more efficient boilers become mainstream, traditional products will be phased out as they become unviable.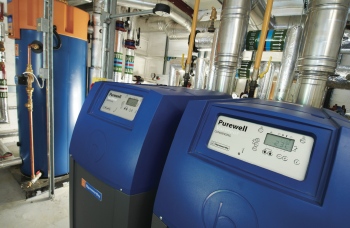 The directive will effectively eliminate from the market all high-efficiency non-condensing boilers up to 400 kW — which includes cast-iron atmospheric, pre-mix and pressure-jet boilers.
It means people will have to consider system replacement rather than simply module replacement; you won't be able to just replace an old boiler any longer. When changing atmospheric or pressure-jet boilers to condensing boilers, particular attention will need to be paid to the flues, as the existing flues on this type of system will not able to deal with a modern pressurised system where condensate will form. Although users will face a higher up-front cost to the end-user they will ultimately reap the savings from greater energy efficiency and reduced running costs over the product lifecycle.
Reputable manufacturers and contractors will follow the directive and promote energy-efficient systems, but you may get some organisations which continue to promote the cheaper, non-condensing boiler options that do not conform to regulations. Ultimately, people need low emissions, low-noise and high-efficiency products with full system integration.
Although we are not likely to see the impact of ErP until the end of 2014, it is inevitable. Despite delays in the EU directives, the UK Government is pushing ahead with Building Regulation changes to improve efficiency and reduce carbon emissions of buildings.
At Hamworthy, we are facing up to this reality and gradually divesting older products as well as continuing research and development into new and existing products to make sure our extensive portfolio continues to meet with the anticipated efficiency requirements already discussed as part of the directive formulation. The Purewell VariHeat range of cast-iron modulating pre-mix condensing boilers was designed as a natural replacement for traditional cast-iron atmospheric boilers, occupying the same space as its predecessors, but offering higher outputs and superior efficiency performance.
It will take time for people to get used to the new requirements once they are introduced, but in the long term, the end-user will benefit from significant energy savings, reduced emissions and real cost savings.
Bob Walsh is technical director with Hamworthy Heating.
Related links:
Related articles: