The attractive finances of solar PV

The future's bright for commercial operations looking to invest in solar PV, especially given the financial incentives and help that are available. says Paul Hutchens of Eco2Solar.
Every successful business is looking for that competitive edge and innovative, cost-effective solutions that reduce energy bills. That's why more and more organisations are turning to solar power to generate their own electricity, dramatically reduce their energy costs and, at the same time, boosting their green energy credentials.
Although there is an initial capital expense when buying a solar panel system, the benefits speak for themselves. Overheads are reduced, and, importantly, you no longer have to rely on an electricity supplier.
Crucially, with the cost of solar panels coming down, it has never been more affordable for businesses and owners of non-domestic buildings to invest in solar PV.
There are plenty of ways to minimise the initial capital outlay, with a grant or an interest-free loan. Capital costs can also be offset with regular payments from the Government's Feed-in Tariff (FiT) scheme.
There is still much confusion with businesses about the benefits of solar electricity. The most likely cause is the Government's restrictions on FiT — yet solar panels are as cost effective as they have ever been, and unquestionably cut reliance on electricity suppliers.
Any business with high electricity usage in daylight hours can benefit from PV: it contributes to demand, reduces electricity costs and provides a tax-free additional income.
The benefits are clear when you consider the basic facts about solar energy. Solar panels can be expected to last 25 to 30 years — and more. They also carry warranties of up to 25 years, depending on the make of the panels, making them a very safe investment option.
What's more, solar energy systems are virtually maintenance free and they are often self-cleaning.
The costs of commercial installations vary depending on the size of the system required. For example, a 15 kW(p) costs around £20 000, and a 50 kW(p) costs around £57 000.
When your solar panels are in place, you have a reliable source of green energy. You no longer have to worry about paying for electricity from the National Grid. Put simply, you save money by using your own electrical power source.
When the solar system is producing energy, solar electricity can be used to power any electrical equipment in daylight hours. It can also be used for heating, lighting and cooling buildings, water heating and a variety of industrial processes.
For example, Eco2Solar recently designed a 39.6 kW(p) solar PV system for one of the largest pig breeders in Leicestershire to help power its pig-feeding facilities. All the electricity generated at Lodge Farm is consumed on the 320-acre family-run farm, which has almost 200 breeding sows. Lodge Farm is also expecting to generate £11 236 in tax-free income from the FiT.
By working in partnership with Festival Housing Group to install solar PV on non-domestic properties in Worcestershire and Herefordshire and Sanctuary Housing to install solar systems UK wide, we have seen first-hand how both are passing on energy savings to tenants.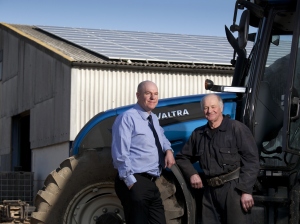 Hospitals are also turning to solar energy to cut energy costs and generate green energy. We installed the first community-based renewable energy projects at Stratford and Warwick Hospitals, run by South Warwickshire NHS Foundation Trust. It has generated over 8000 kWh of green energy for Stratford Hospital and over 40 000 kWh of green energy for Warwick Hospital in the last 12 months alone.
Of course you expect a return on any business investment. A solar PV or heating system is no different. Your return on investment (ROI) relies on factors such as initial cost, grants, loans and incentives. What you should also bear in mind is the longevity of solar power systems. When you build these factors into your ROI calculation, current industry research shows you could receive an 8 to 15% return.
Budgetary issues are always a concern when investing in new technologies or approaches, which is why it is important to consider all financial options available to reduce your carbon footprint and business's bills.
Solar energy grants are available, so when you begin researching your investment in solar energy, check for any available grants. Companies, such as Shell run grant programmes for renewable energy.
Low-interest loans to buy solar panels and solar heating are sometimes awarded by the Carbon Trust (via its partner Siemens). It also offers free advice on leasing and hire-purchase arrangements, and can help you with an investment or business case appraisal.
If you install a solar PV system for your business, you can take advantage of the tax-free FiT scheme. This is not as generous as it once was, but system prices have reduced to ensure the return you get is just as good with a lower initial financial outlay, and you can still receive money for the solar electricity you produce. It is important to be aware that if Government funding has been awarded to contribute towards or pay for the cost of a solar energy system, there is no access to the tax-free FiT scheme.
However, the Government does allocate additional payments for excess solar electricity you send to the National Grid.
Furthermore, if the European Union's Emissions Trading System (EU ETS) affects your company, or you are part of the Carbon Reduction Commitment (CRC) Energy Efficiency Scheme, solar power helps you meet energy-saving targets.
Once you've made the decision to invest in solar PV, it is important that you have an experienced, knowledgeable supplier. To ensure that you get this, it is essential that you chose an MCS accredited company, which can offer you proof of installations and projects similar to your requirements, alongside the security of long-term service.
If reducing your energy bills and carbon footprint is not enough, installing a solar PV system means you can promote your company's commitment to green energy and the environment, which is great for your reputation.
Paul Hutchens is managing director of Eco2Solar.
Related links:
Related articles: