Enjoying the efficiency benefits of legislation
Tightening of European energy-efficiency legislation for air conditioning may be seen as more red tape but new rules introduced this year could enable building engineers help their clients make substantial energy savings, says Graham Wright of Daikin UK.
The European Energy Related (ErP) Directive, which requires seasonal efficiency ratings to be calculated for air-conditioning products of up to 12 kW, came into force on 1 January 2013. This legislation could be seen as more evidence of interference from the EU, but the positive aspect is that it could bring substantial financial and environmental benefits to developers, building owners and end users.
Under the new law, energy efficiency is now measured more realistically, considering seasonal variations and accounting for external temperature and energy efficiency at part load. Energy consumption of products in auxiliary modes such as standby or off mode, or when the thermostat is off, is also taken into account — again reflecting better real-life energy-performance.
The entire construction industry needs to be aware of what the new ErP regime means, because it affects which systems can be specified and can affect a building's overall environmental credentials. This is becoming increasingly important to both public- and private-sector clients, as successive UK Governments have committed to reducing greenhouse-gas emissions in the built environment.
Building Regulations are tightening each year, changing the way buildings are designed, and clients are also seeking ever-higher BREEAM ratings for the buildings they commission to reflect their corporate social responsibility towards sustainability and the environment and, in the case of the private sector, that buildings will be able to be sold easily in the future.
Clearly, air-conditioning products with seasonal efficiencies meeting new legislative standards will be far more energy efficient than older, non-compliant products, use less energy and will help to reduce carbon emissions and lower operating costs.
Inverter-controlled air conditioning systems comply with the new rules, are more efficient and consume up to 30% less energy than non-inverter systems, which will struggle to meet the new legislation.
While non-inverter driven units regulate temperature by switching the compressor on and off, inverter systems continuously adjust compressor speed to match actual cooling and heating demand, allowing them to operate at optimal efficiency, regardless of internal and external conditions. This means they are most efficient at part load and their seasonal efficiencies are far higher.
An inverter also reduces system start-up time, so the required room temperature is reached more quickly, ensuring comfort levels are maintained. Inverter control eliminates spikes in energy demand experienced by on/off systems, extends component life and reduces operating and maintenance costs, resulting in faster payback times.
ErP will affect those air-conditioning systems typically installed typically in high-street retail units. Some retailers are already reaping the benefits, as shown by a recent project in south-west London.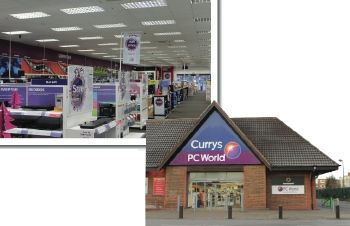 As part of the refurbishment of its Currys PC World store at Richmond upon Thames at the end of 2012, operator Dixons Retail wanted an air-conditioning system that could deliver much higher levels of energy efficiency, together with a reduced carbon impact.
Daikin's Sky Air Seasonal Smart system was chosen for the 7500 m2 store. Five outdoor units are connected to five of Daikin's self-cleaning ceiling cassettes, which run down the centre of the store. The system uses an intelligent control system — allowing different temperature settings for trading hours, or non-trading periods where staff are at work, as well as responding to footfall levels and external temperatures.
Colin Braidwood, energy manager for Dixons Retail, said: "We are very pleased with the energy efficiency at Richmond. Ideally, I would like to judge a system over a full 12-month period, but the difference in energy efficiency that we are experiencing so far is looking really good.'
The benefits of choosing an air-conditioning system with a high seasonal efficiency meeting the latest legislation are obvious.
However, construction professionals, specifiers and building managers should be vigilant when choosing new systems because while products not meeting the new requirements can no longer be introduced to the market by manufacturers, those already held in stock by a distributor or awaiting installation are deemed to be 'placed on the market' and can still be sold on through the supply chain.
As a product's seasonal efficiency ratings must now be displayed on a redesigned energy label, understanding the new energy labelling is crucial, so that energy performance of products can be assessed accurately.
Those who specify or install non-compliant air-conditioning systems are missing the opportunity to benefit from higher energy efficiencies, reduced carbon emissions and lower running costs. It would therefore be short-sighted, and quite possibly a false economy, to choose equipment which is effectively already out-of-date. What is more, the minimum energy-efficiency threshold will be redefined again in 2014, so even higher efficiency levels will be required.
Graham Wright is legislation specialist with Daikin UK.
Related links:
Related articles: