Euro-ban gives time for a rethink

The latest Euro-ban on copper/silver ion treatment to control legionella is no cause to panic but a timely reminder to review your due diligence on legionella control. Andrew Steel of Airmec clears the confusion.
Following the recent ban on the use of copper in legionella control systems, estates and facilities managers should take a balanced view. While the reasonable man's interpretation is that the HSE position will not seek enforcement pending an expected exemption from the European Commission, due diligence suggests that the current situation should not be ignored altogether. Rather, it should be viewed as a prompt to review all the pros and cons of ionisation and go back to basics on all the processes you currently have in place for legionella control.
An initial risk assessment is a statutory requirement and should include an assessment of hot- and cold-water systems. By law, risk assessments should include schematic diagrams and reviews and be undertaken at least every two years — and more often if there have been changes to the system or indications that controls are failing. All too frequently such risk assessments and accurate schematic diagrams are completely absent.
The requirement for detailed schematics and other requirements for risk assessment are laid out quite clearly in the UK Health & Safety Executive's (HSE) Approved Code of Practice & Guidance (ACOP) 'Legionnaires' Disease: Control of legionella bacteria in water systems' (L8) . L8 has special legal status and is legally binding; if designated responsible people within an organisation do not comply with its requirements the courts may hold them personally responsible for the consequences.
British Standard BS 8580:2010 Water quality — Risk assessments for legionella control — Code of practice clearly lays out the best practice for risk assessments, but takes the form of guidance and recommendations rather than being a definitive specification. Nevertheless, that's no excuse for not adhering to best practice!
A risk assessment identifies any reasonably foreseeable risks to health, and advises on the necessary precautionary measures that need to be taken to prevent, or adequately control, the risk. Similarly, it highlights lower level risks and facilitates budget planning for remedial works. The risk assessment also enables the person on whom the statutory duty falls to show that all the steps needed to prevent or control foreseeable risk have been considered.
While newer buildings may have the advantage of zoned water systems and built-in flushing valves, systems in older buildings are often a mystery — even to the people who manage them. There will likely be a history of refurbishments and minor works such that no-one really knows the system or could locate every pipe, outlet and potential risk area in the absence of a good, current and legally compliant risk assessment.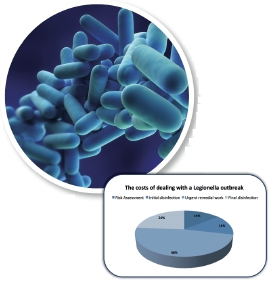 Risk assessments should be undertaken before the maintenance regime is put in place, or as soon as possible afterwards. This is especially important, with so many larger organisations now preferring to manage routine work internally. It's a logical approach that offers significant cost savings, but these will quickly be wiped out if the regime fails to address the risks and there is an outbreak. Professional help in aligning monitoring, inspection and flushing schedules with the asset register and schematic in the risk assessment is undoubtedly a good investment and one that will add further value to the risk assessment as a valuable tool for preventing outbreaks in the first place.
It's also worth remembering that a risk assessment is a live document, not a one-off exercise. It is important that it is reviewed regularly and, ideally, in anticipation of rather than in response to changes.
The chart shows how the costs were broken down in a recent £200 000 project Airmec undertook following a legionella-positive lab test result. The full risk assessment is highly significant here because in this recent example it should not have been necessary since it should already have been in place.
The European ban on the use of copper as a biocide in water systems has been effective since 1 February 2013. Users, who have made a capital investment in ionising electrode systems, typically using copper/silver electrodes, are naturally loath to write them off, especially as the widespread belief is that the granting of an exemption, sooner or later, is a foregone conclusion.
However, there are chemical alternatives to copper/silver electrodes and ionisation that can easily and quickly be implemented to keep you within the law — either as temporary or permanent solutions. Facilities managers may well find that the costs of chemical biocides will compare well with what they are having to spend on consumable electrodes. Once you have done the maths, a swap to biocides might, therefore, be permanent and not just a stopgap pending an exemption on the copper ban. It may be that you already have the best possible solution in place, but it will cost you nothing to have a consultant offer informed advice.
Andrew Steel is managing director of Airmec.
Related links:
Related articles: