Controls as part of CSR
Not only can control systems provide a wow factor for prestige buildings, but they can also play an important role in corporate responsibility. Richard Hayward of Legrand discusses the shift in emphasis in building automation specification from wow factor to low carbon.
Automated building management systems (BMS) have been specified in varying degrees for years to enhance the smooth running of commercial buildings and reduce their operational costs by preventing energy from being wasted. As developers and specifiers address the need to meet Government zero-carbon targets and end users consider the effects of environmental performance on their reputation and their share price, intelligent control systems have become an increasingly prominent element in energy management strategies.
The sustainability agenda means that the energy-saving potential of automated control systems is no longer focused simply on delivering cost savings but on improving the long-term energy performance of the building and enhancing its flexibility so that it can remain efficient for evolving occupier requirements.
Of course, in the corporate environment at least, the wow factor is also a consideration, and control systems that can combine sophisticated audio-visual systems, blind controls and heating in the boardroom with flexible lighting, heating and cooling controls in the main office, reception and common areas are now a must have for the prestige office sector.
However, in the 21st century corporate responsibility includes carbon responsibility so the value of intelligent control systems is, therefore, much greater than an impressive display for board-room visitors. A well-designed control system can enhance a building's load-shedding capabilities, reduce energy consumption and drive down carbon emissions, cutting operating costs and helping to deliver the occupier's sustainability goals. As a result, intelligent controls are no longer the preserve of 'high-end' buildings, and these benefits have led to growth in their specification across a much wider spectrum of buildings — including retail, hospitality and office schemes from SME level upwards.
Designing a building automation system into a building at the earliest stage, taking into account the layout, orientation, location, thermal performance and function of the property will ensure the installation fits the needs of the end user — but… those requirements can change! It's also important, therefore, that the system is as flexible as it is tailored.
Systems that are interoperable across varied protocols are the ideal choice to maximise opportunities for adapting and upscaling as needed. Technological advancements over the past three or four years have made this multi-protocol approach more achievable, and the growth of 'plug-and-play' products with improved design values to aid ease of installation and configuration have also helped deliver flexibility.
Legrand has embraced this cross-protocol approach by combining protocol gateways and devising an open web language, Open Web Net, to enable communication between devices from most manufacturers and facilitate easier selection of functions and application systems.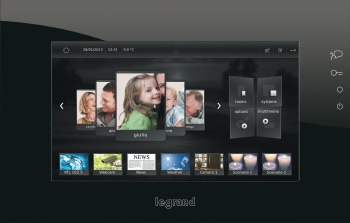 The best approach for a new-build property is to install a wired infra-structure that can be adapted with the addition of new controls and re-programming of pre-set scenes and linked events. However, when refurbishing an existing building, a wireless system may be more practical. This avoids the cost and disruption of re-wiring, and by using the ZigBee wireless protocol, which works on a mesh network, it can offer similar levels of functionality.
Energy saving has become a key product development focus for intelligent controls manufacturers in line with increased emphasis on low carbon from occupiers, developers and planners. The optimum system should combine pre-set scenes, sensors, timers and manual switching, encouraging good energy saving behaviours backed by an automated system.
The most carbon-efficient systems are now incorporating daylight harvesting capabilities that are aligned to pre-set optimum lumen levels. Here, the lights will dim if the natural light entering the room increases, reducing the draw on the grid. This functionality can also be linked to temperature monitoring so that if the temperature in the room rises higher than the pre-set acceptable level, the system is programmed to recognise that the rise is due to solar gain, therefore prompting the system to close the blinds rather than switching on the air conditioning — a much more energy efficient way to maintain an ambient temperature.
As building owners, managers and occupiers continue to look for ways of reducing overheads, the long-term cost savings offered by intelligent control systems will continue to advocate their specification when weighed against the capital outlay of the initial installation. However, this approach does require long-term thinking, which inherently also means building in maximum flexibility so that the system can be upscaled, adapted or re-programmed to meet the changing needs of current and future occupiers.
In the corporate environment, reducing carbon emissions is not only a matter of complying with legislation, it also plays an increasingly prominent part of corporate and social responsibility reporting, providing a tangible indicator of a company's commitment to sustainability. As such, the control system is an extension of the company's brand, for employees, customers and other stakeholders, and a system that can continue to deliver energy saving benefits as technology advances is the best long-term solution.
Richard Hayward is lead marketing manager for Legrand's wiring devices business and has more than 15 years' experience in the smart building automation sector.
Related links:
Related articles: