Better integration for better buildings

Mark Tallent of Crestron International makes the case for reassessing integration and asks if the industry is doing enough to exploit the potential of integrated building technology.
Our industry does BMS really well. We can effectively control and integrate all manner components across the built environment. What the industry does not do so well is to get these systems engineered to work together at the design phase. Independent control systems are often designed in isolation without any thought of how they should co-exist. By changing this, massive savings can be made and buildings will be more efficient.
The current way of working, in most cases, sees the independent control of each BMS component via a control interface, with the interface only initiating presets, programmed by the wider systems.
At Crestron our belief is that integrated building technology (IBT) should provide the tools to specify truly integrated buildings. As such, we are developing IP-based tools to not only manage, but also report on, energy-consuming BMS elements — thereby offering increased joint functionalities.
The IBT approach aims to engineer each control element of a building to intercommunicate by using a control system that can talk a variety of languages instead of trying to force pieces together which were not engineered correctly in the beginning. It's not about being able to control a lighting system and a boiler via one control platform; it's about leveraging better joint functions from a single system that encompasses lighting, HVAC, energy management, room scheduling and more.
Too often we are pulling a series of M&E components together at the end of a build. Remember, the jigsaw puzzle is much easier than Rubik's cube.
IBT requires greater interaction between disciplines but realises crucial benefits.
• Lower design cost — eliminating redundant work and control systems.
• Lower first cost — costs are reduced when smarter systems are deployed: centralised dimming, wireless device control, shared sensor technology, self-powered devices, integrated IP networks.
• Lower life-cycle costs — more energy efficient buildings, compliant with industry standards such as BREEAM.
• Analysis of usage — realtime feedback of assets providing a better idea of cost of ownership
• Sustainable approach to high-performance buildings — costs and carbon footprint will be reduced.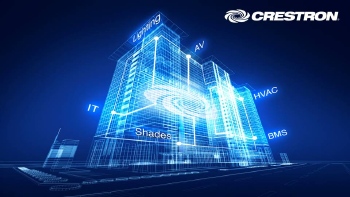 Our industry has been talking about better integration for years. So why aren't we working better together? The reasons are that it is easier for design/M&E teams to work independently on projects, and it's easier for each consultant to keep doing what they've been doing.
The dilemma is that big organisations are calling for changes and demanding more from industry to lower the cost of operations. Owners are recognising the value in having better designed buildings. Master plans are calling for a higher level of integrated design. Savvy industry leaders are tired of greenwashing and are looking for solutions to this issue.
Our own product developments have seen Crestron add BacNET compatibility to control processors to streamline how systems communicate with one another. Similarly, our Fusion platform grew from a room-booking system and has now evolved to combine an energy monitoring and, crucially, management component (Fusion EM).
Combining these features shows facilities managers how much energy is being consumed by each person from room to room at any one time and gives them the power to adjust and manage output — one point of call for deploying joint lighting and HVAC commands.
One of the biggest factors driving change in the integrated technology landscape is having everything on an IP backbone. Facilities managers are now taking control of their buildings back as we better integrate systems and provide them with mobile control to perform both remote and localised actions.
Ignoring the potential of IBT is short-sighted and bad business. It is about getting whichever manufacturers' systems are specified to engineer a solution where the life of a building is serviced by a push for good integration.
To manage this and to ensure the benefits highlighted, we propose the creation of a new role —the integrated technology project manager (ITPM).
The scope of the ITPM is not intended to supplant or take away from other disciplines. The role is that of an ombudsman. The scope for this role would include the co-ordination of the different consultants on the design team. The ITPM would bridge the disciplines, streamline the process and ensure the delivered solution works for the building, for the life of the building.
Whether or not an ITPM would fix the problem, who knows? All I know is, I prefer a good jigsaw puzzle to Rubik's cube any day.
Mark Tallent is Crestron's international product manager for lighting and building controls.
Related links:
Related articles: