Gaining control
Poor control of older boilers can add 30% to the energy bill, and modern boilers will also benefit from good control. Paul Burley of Ener-G explains the value of adding intelligence to boilers.
Boiler control is one of the fastest and simplest ways organisations can cut energy costs and reduce their carbon footprint to meet environmental and carbon reduction targets. This is especially important since heating and hot water comprise more than a third of a typical organisation's overall energy consumption.
Most boilers lack native intelligence, but older boilers are particularly unintelligent — commonly adding 30% and more to energy bills because of poor control.
The most common cause of wasted energy and inefficiency in older boilers is the unnecessary re-heating of water. The unintelligent boiler fires up when there is still sufficient heat within the system. When this happens the boiler re-heats water that is already sufficiently heated and the excess heat is wasted up the boiler flue. Dry cycling is the common name for this process, and it can account for significant wasted energy and associated costs.
The boiler setting is fixed and usually set to cater for the coldest external temperatures and maximum boiler load. By implementing a controls strategy, a boiler doesn't need a time clock to tell it when to run — it is demand-driven. This can make significant savings to an end user's total energy bill.
It is a basic principle of thermodynamics that if the return temperature is low, the boiler heat exchanger will operate more efficiently. Good boiler control will monitor flow and return and vary the threshold settings and firing cycle to regulate the heating demand. The return temperature is used to determine when to reduce the boiler setting and when to extend the firing cycle, without affecting comfort levels. This means the module controlling the boiler plant works out when the boiler should fire to satisfy the load. In this way, the boiler plant will only run when it needs to, thus saving energy and unnecessary wear of the plant.
Good optimised control will prevent the boiler from firing until the return temperature has dropped to a pre calculated temperature. When there is capacity in the heating system, these temperatures can be reduced. Additional savings can also be made by taking into account other elements, such as weather compensation and optimum stop/start. All these small efficiency improvements add up to reduce overall energy costs and have a positive impact to the user's bottom line.
In installations where there is a continual heating demand — such as hotels, care homes etc. — the boiler flow temperatures can be reduced at times of the day when the demand is lower.
It is the level of control strategy applied to boilers that adds the intelligence. Older boilers will only have a boiler thermostat and high-limit thermostat, which is insufficient to prevent dry-cycling. It is, therefore, essential as a control strategy that these boilers are direct switching via remote thermostatic and occupancy (zone) control.
On modern boilers, intelligence may be added internally as part of the boiler electronics, or remotely as part of an energy-management system (EMS), or both. However, internal boiler intelligence — even on modern boilers — is very limited. Without remote thermostatic-related occupancy control, dry cycling will occur within the limit of the boiler settings, increasing energy costs unnecessarily.
This level of control strategy is rarely applied, and we see many instances, particularly on smaller energy-intensive sites, such as rest homes and small hotels, where proprietors are reluctant to invest in bringing boilers under direct switching control.
It is precisely in this type of scenario that boiler optimisation may prove to be an attractive, more affordable proposition. As such, the self-learning intelligence of these units will dramatically reduce the act of boiler dry cycling.
The ultimate control is, of course, the installation of a direct switching EMS, giving the proprietor total control and management over energy consumption.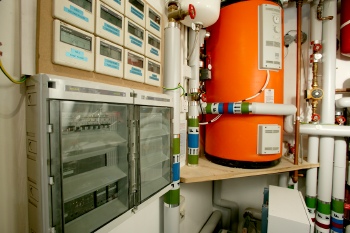 Ideally, installing modern boilers and an EMS is the ultimate, but the cost involved can generally be prohibitive. However, good control of older boilers via an EMS and/or a boiler optimiser will provide a cost-effective fuel saving that could then contribute to investment in new boilers. The new control system should be compatible with both old and new boilers.
It is important to monitor boiler performance. Modern energy-management systems should be capable of both monitoring and reporting, enabling the client to maintain performance, target further possible savings and access data from a PC for compliance and reporting purposes. An even better way is for this data to be collected remotely, analysed and reported back to the end user in simple straightforward terms.
The efficiency of both boilers and controls is reliant on several factors.
• Who installs the system.
• Who commissions the system.
• Who services the system.
• How the system is maintained.
• How the system is managed.
These are critical criteria that can make the difference between a large reduction in fuel consumption, a mediocre reduction, or none at all. The cost savings when a boiler, old or new, is controlled properly are significant. The installation can be carried out without any disruption.
In general, the trigger for installing new boilers is the failure, or possible failure, of the existing systems. Some projects are undertaken following an energy audit of premises, but all too often the recommended actions are ignored.
This is short sighted since the savings from properly optimised boilers are very impressive — often achieving payback in 12 to 24 months. Ener-G can finance such projects under energy-performance contracts, whereby payment is taken from the savings over an agreed contract period. As such, the client can make a healthy profit, without any capital outlay.
Paul Burley is divisional managing director for Ener-G.
Related links:
Related articles: