Time to beat the rush to replace R22 systems

With less than 10 months to go before the final ban on R22 refrigerant at the end of December 2014, building managers face an increasing need to replace all R22 systems. With an estimated 45 to 60% of all air-conditioning systems in use today still reliant on this refrigerant, the pressure is on to find a cost effective alternative, says Martin Passingham of Daikin UK.
To date, many organisations have relied on recycled or reclaimed R22, rather than opting for complete replacement of the system or refrigerant used. But this will no longer be sufficient from 31 December 2014 onwards as, under the terms of the Montreal Protocol, a total ban will come into force on R22 from all sources — new, recycled, recovered or reclaimed.
While systems using R22 can still be used beyond that date, maintenance or servicing activity cannot break into the refrigerant circuits, unless it is to reclaim the refrigerant for disposal before replacing or upgrading the system. Yet if we are to tackle carbon emissions from our existing buildings, it is vital to ensure that the regular maintenance of air-conditioning equipment continues in order to optimise energy efficiency and meet the latest legislative standards.
With a large number of R22 systems still operational throughout the UK, the last-minute purchase of R22 upgrades and replacement solutions could flood the market, leading to a surge in demand for alternative systems and a shortage of skilled installers necessary to meet this requirement.
The good news is that the ban on R22 does not necessarily mean businesses will have to meet the cost of replacing entire air-conditioning systems. With solutions available that can mean that pipework and possibly the indoor fan coils can be kept, systems can be upgraded so that they are compliant with the latest standards while generating much less waste than if the entire system was replaced.
What's more, the latest air-conditioning systems are capable of increasing efficiency during cooling by up to 35% compared with systems containing R22, so the capital costs of replacing or updating the system can be partially offset by lower, ongoing running costs.
Building managers can also control investment costs and improve the energy efficiency of existing systems by planning a phased R22-replacement programme that will minimise disruption.
At the Palace of Westminster, one of the UK's most iconic listed buildings, this approach was taken during a refurbishment programme, in which outdated R22 systems were upgraded using the Daikin VRV III-Q solution. This 3-pipe replacement option reduces the operating pressures of R410A down to levels closely comparable with those of R22, without loss of performance.
The contractor, All Seasons Climate Control, was able to reuse existing R22 pipework and flush out the existing system, before recharging it with the more energy-efficient R410A. Once the existing system was flushed out, new Refnet joints were fitted into the existing pipework, to which new indoor and VRV outdoor units were connected.
It is anticipated that the new R410A solution will provide energy savings of more than 35% when compared with the old system, as well as reducing annual CO2 emissions by 6 t.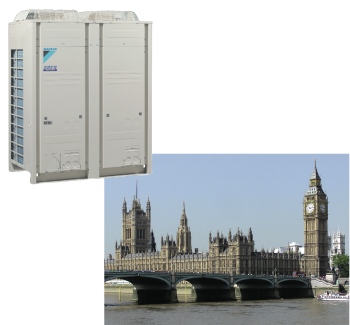 A similar solution was developed at the London offices of Business in the Community (BITC), a charity that promotes business and workplace sustainability. The existing R22 air-conditioning system had reduced in efficiency, primarily because the condensers had been enclosed some time after the installation.
Given that topping up the system with R22 would no longer be an option after 2014, the BITC team understood that air-conditioning performance would continue to decrease and running costs would increase until something was done to update the system.
Instead of replacing the whole system, a VRV III-Q solution was designed by ISG fit-out specialists and Norman Disney & Young consulting engineers to offer a more cost-effective installation solution, by retaining the existing pipe runs and avoiding the need to access ceiling voids throughout the office areas.
The new installation includes 12 external heat-recovery condenser units connected using the existing copper pipework to 35 new internal fan-coil units, which provide controlled distribution of the airflow. Each fan coil has a branch selector box fitted, so that heating and cooling outputs can be controlled independently for each unit. Heat can also be recovered from the system when fan-coil units are in cooling mode and transferred to areas requiring heating.
These projects show how a pragmatic approach to system design can deliver substantial cost savings on installation programmes, while still delivering much greater efficiencies than relying on outdated R22 systems, which can no longer be maintained effectively after the end of 2014.
However, given the anticipated demand for R22 system replacement later this year, building managers would be wise to begin planning their approach to upgrading air conditioning systems sooner rather than later. The race is now on to beat the rush for R22 replacement.
Martin Passingham is product manager for DX with Daikin UK.
Related links:
Related articles: