Extract fan incorporates efficiency features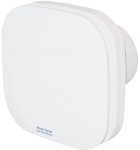 Vent-Axia's Lo-Carbon Response fan for domestic applications can measure its own airflow and pressure after installation. This feature enables the requirement of Part F 2010 for measuring the installed airflow of extract fans to be met without needing to use instruments such as a vane anemometer. The system pressure reading confirms that ductwork has been installed correctly.
These fans are listed in SAP Appendix Q and are suitable for kitchen and bathroom applications.
A higher-pressure axial impeller can meet the requirements of many domestic installations without the need to use a centrifugal fan. Pressure adjusts to meet demand, saving up to 64% of the SFP (specific fan power) of the SAP Appendix Q date for existing centrifugal alternatives.
As standard, a Response fan will not start until the bathroom light has been on for three minutes, avoiding nuisance running overnight.
A useful feature of social housing is a built-in data logger to record if a fan is active or idle. If mould appears, the landlord can discuss a solution with tenants.
Related links:
Related articles: