Opening opportunities for building control
Contributing to the success of many important buildings is a building-management system based on KNX open architecture. Iain Gordon of KNX UK examines its capabilities.
Even though there are different ways in which a building and energy management system (BEMS) can be implemented. In its simplest form, it essentially comes down to the control of the energy within a building. There are of course many different types of BEMSs available from many different manufacturers and some of them even have an open architecture.
A KNX building control system is not designed to replace or be used instead of a BEMS, but rather it can take over the field control — that is to say, the room or floor control of heating and ventilation. Once a KNX system is installed, it provides an infrastructure to which different elements of control can be added — for example, controls for lighting, blinds and shutters, security and so on.
This infrastructure provides a solid and stable platform for energy efficiency within a building so that lighting and heating can be switched on or off based on occupancy or office hours. Blinds or shutters can be closed automatically to preserve as much as possible of the heat generated within the building.
Home automation and control systems such as Crestron or DALI have their own strengths. Crestron's lies in the audio-visual sector, and DALI is a lighting-control protocol that can function on its own. Neither need KNX, but both can be connected to KNX via a gateway and integrated within a building automation system — in the case of DALI, helping to maximise its functionality.
Quite the opposite of proprietary technology, a KNX open-architecture building-control system allows products from many different manufacturers to be connected together seamlessly on the same network — without the need for special application programmes or drivers. Indeed, it is a worldwide open protocol and is approved as European Standard (CENELEC EN 50090 and CEN EN 13321-1); International Standard (ISO/IEC 14543-3); Chinese Standard (GB/T 20965) and US Standard (ANSI/ASHRAE 135).
Multi-vendor KNX-approved products can be selected on a mix-and-match basis of the best products in a class and with guaranteed future compatibility with other KNX approved products. The system is also very easy to extend at any later date as new bus lines can simply be added to the existing network.
As well as lighting, heating or shutters/blinds, KNX products cover a vast range of other applications. They include smart metering, energy management, security-monitoring systems and audio-visual control. This level of versatility is not available with proprietary technology.
Illustrative of how KNX interfaces with a building energy management system is the Siemens Crystal building in London. At its heart is a Siemens Desigo building energy management system that controls the building to ensure it operates in the most energy-efficient manner. Meeting-room chilled beams, trench heating, blinds and lighting are controlled using devices on a KNX network. A combination of occupancy and CO2 sensors in the meeting rooms put these areas at their 'day' setpoints only when a room is occupied.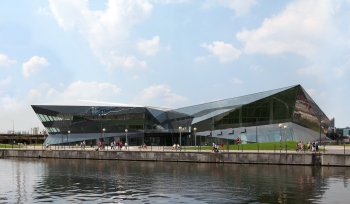 All this capability can be controlled via room units, and occupants can use third-party touch screens in each meeting room. This total room automation solution balances energy efficiency with occupant comfort.
The system enables the many renewable building services elements of The Crystal to be used at their most effective levels because it is compatible with a range of open protocols such as KNX. It also provides reporting features so the building-management team understand how energy is being used and keep energy use within required parameters.
Another example is the AVC Inspiration Centre in Evolis, Belgium. Noteworthy from the energy-consumption and building-design points of view, it features a building automation system with all services integrated through KNX. These include a heat-pump system for the heating, ventilation system, solar-dependent control feature and convenient lighting functions.
With its fully glazed facades and bright, open-plan indoor areas, buildings of this type need to be able to adapt to changing weather conditions for maximum energy efficiency. They must be able to find the right balance between heating from the Sun and daylight, together with cooling and proper ventilation at any given time. Therefore, its HVAC equipment, indoor temperature, solar control system, safety and security functions as well as artificial lighting need to respond automatically to external influences.
Using KNX, the system integrator was able to meet all these criteria. The standardised KNX installation bus links the entire HVAC system — including boiler, heat pump and air-conditioning and ventilation equipment — with the rest of the building automation system. In this way heating and cooling in the building can be controlled highly efficiently throughout offices, meeting rooms, showroom, bar and a multi-purpose room.
The indoor climate can be controlled conveniently via mini touch panels. Lighting in the various rooms can be operated from multi-functional controllers. In areas where artificial lighting is needed only sporadically, motion sensors ensure energy-efficient lighting use. Constant lighting control in the warehouse area using DALI with interface to KNX also promotes energy efficiency. The building also uses smart meters that continuously monitor and record the power consumed by heating, air conditioning and lighting systems, by coffee machines and by equipment in standby. Any necessary optimisation steps can then be taken.
The new campus at the American School of Dubai spans 92 900 m². It comprises six modern school buildings, sports and art facilities as well as outdoor areas. The school's building services are controlled by an automated KNX-based system. By choosing KNX, the building owner was able to meet criteria for high energy efficiency, ease of installation, flexible technology and low investment risk.
All lighting on the campus is controlled automatically via KNX. Even in the classrooms, this reduces energy consumption by 45% compared to conventional solutions. Presence detectors are fitted, which only allow artificial lights to be switched on when there is insufficient daylight and there are still people in the building. The climate conditions in the rooms are also controlled automatically using KNX room-temperature controllers. After school hours, motion sensors and the CCTV system are activated and alerts are automatically transmitted via a KNX GSM gateway to a security company.
Iain Gordon is president of KNX UK.
Related links:
Related articles: