Heating specialist shows confidence in Fernox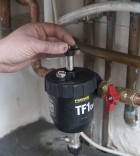 Fernox products are being used by heating and maintenance company Alan D. Scoffield Heating, based in The Wirral, to commission new heating systems installed under the Eco Affordable Warmth scheme to ensure they benefit from long-term efficiency. The products are Fernox Protector F1 and Cleaner F3. The company has also fitted its showroom with a working boiler and Fernox TF1 Total Filter to demonstrate to potential customers the added-value benefits of filter technology.
Under the Government's ECO (Energy Companies Obligation), which runs alongside the Green deal, Alan D. Scoffield Heating will have funds provided by major energy companies to cover the cost of free boilers.
When installing a new boiler, the company will adhere to best practice by re-commissioning using Cleaner F3 to remove sludge, limescale and other debris and Protector F1 to prevent future corrosion. Compared with a previously dirty system, gas savings of up to 15% can be expected.
The company will encourage customers to opt for a TF1 Total Filer to protect boilers from magnetic and non-magnetic contaminants.
Related links:
Related articles: