Bringing sophistication to the control of space heating
Published: 15 October, 2005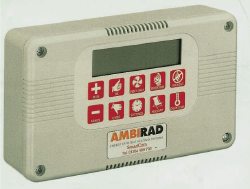 Sophistication in heating control — Ambi-Rad's SmartCom can control many types of heating system, including radiant tube and warm air.
The SmartCom heating-control system from Ambi-Rad is compatible with radiant-tube, warm-air and many other heating systems.
There are four models in the range.
SmartCom Standard is suitable for all Ambi-Rad radiant tube and warm-air unit heaters. Functionality includes single-stage heating and cooling, self-adapting optimised start, volt-free BMS over-ride and clock-enabled relay.
SmartCom Advanced provides more sophisticated control. Additional features include 2-stage heating, 3-stage cooling or ventilation and fully modulating heating and cooling.
SmartCom Network is a network control system that enables multiple zoning in a building. Up to 15 slave units can be controlled by a single master. The master unit can automatically update clock settings, update temperature function and program settings, view room temperatures and adjust the temperature setting of all units and set holiday, overtime and ventilation-only functions for the entire network.
comments powered by

Disqus