GDL supplies bespoke ventilation for college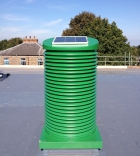 A key part of the ventilation strategy of Askham Bryan College, the agricultural and land-management college in York is GDL's Penthouse Turrets incorporating solarPV to boost air movement in the summer or when room occupancy reaches capacity. The first phase of this £34 million is the animal-management centre and adjoining wildlife and conservation area. The centre will also include lecture theatres and a replica veterinary practice.
GDL's solar-powered Intelivent Solarstore units were a bespoke circular design to meet the aesthetic design requirements of the architect.
The power generated by the solarPV cells enables 24-hour supply or extract ventilation.
Related links:
Related articles: