Pipe Center's catalogue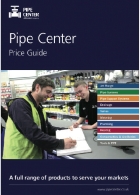 Pipe Center has published an improved version of its product guide. It runs to 480 pages and contains technical information and prices for all its key product lines — including heating systems, pipe and supports, valves and materials, plus tools and safety equipment.
There is information to help identify the correct system for each application, with advice on equipment sizing, pipework and ancillaries. Technical schematics and office performance ratings help customers match systems to specific projects.
There is updated information on the company's value-added services such as bespoke valve and actuator assembly and tailor-made design and construction of pipework for large and special projects.
There is a new section on drainage.
Related links:
Related articles: