Torin-Sifan launches energy-efficient range of centrifugal fans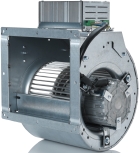 Torin-Sifan has launched a range of forward-curved centrifugal fans powered by its latest generation of electronically commutated (EC) motors. These fans are directly driven and comply with the European Energy Related Products (ErP) Directive for 2015 and also exceed the required fan-motor efficiency grades (FMEG) by nearly 50% (65 compared to a requirement of 44). These fans significantly outperform the minimum efficiency levels required by the January 2015 ErP regulations.
Applications include air-handling units, heat-recovery systems, air curtains, cooling equipment and unit/cabinet heating.
They are suitable for retrofit with Torin-Sifan's traditional AC forward-curved range to reduce energy consumption by up to 30%.
Designed for continuous operation at temperatures from -20 to +40°C, these fans are low noise for quiet operation and have an F-class motor with maintenance-free ball bearings.
A built-in tacho output enables the speed to be monitored and for the fan to be linked to a building-management system.
Related links:
Related articles: