AET delivers underfloor air conditioning in Dubai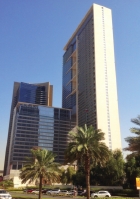 Air Conditioning for the 20-storey Burj Daman tower at the Dubai International Finance Centre is provided by the AET Flexible Space underfloor system. The tower comprises 15 floors of speculative office space covering 4800 m2 that is virtually free of columns, has no irregular corners and with high ceilings to maximise office space and improve sight lines for trading floors.
The development had a total of 168 CAM-V44Flexible Space zonal downflow units pre-installed, and tenants were able to specify their cooling requirements and fan-terminal units to introduce conditioned air into the space.
One of the first companies to occupy the commercial space was Schlumberger, which leased 5000 m2 and specified 250 TU4 fan-terminal units for its space.
The AET underfloor system used the plenum beneath a raised floor as the ventilation duct, eliminating the need for ductwork in the ceiling and potentially reducing the height of new-build construction by up to 10%.
Conditioned air is introduced into the space by floor-recessed fan-terminal units that are easily relocated within 600 mm-square raised-floor tiles.
Related links:
Related articles: