Air conditioning for all seasons

Attention to the seasonal energy efficiency and accurate sizing of climate-control systems is one of the keys to meeting the requirements of Government legislation and energy schemes, says Graham Wright of Daikin UK.
2014 saw a number of changes to legislation, codes of practice and standards covering the energy efficiency of buildings, with the new Part L in April, updating of the non-domestic Renewable Heat Incentive in May and a 33% increase in the cost of carbon allowances under CRC Energy Efficiency Scheme for 2014/15.
The Government has now set its sights firmly on tackling the carbon-dioxide emissions of non-domestic buildings to help it meet its commitments under the Climate Change Act 2008 to reduce CO2 emissions by at least 80% of 1990 levels by 2050.
Pressure is also being applied by Europe. From 2019, all new non-domestic buildings in England will have to be built to zero-carbon standards as part of the Government's commitments under the EU's Energy Performance of Buildings Directive (EPBD). Additionally, the EPBD will also require new non-domestic buildings to be issued with an Energy Performance Certificate.
Part L of the Building Regulations, which already sets limits on the emissions of new buildings, is expected to be the regulatory vehicle for achieving these zero-carbon standards. Part L already requires energy efficiency standards of new non-domestic buildings to improve by 9% on the 2010 regulations. The rules also apply when specific building-services work, including climate control, is carried out.
With all of this in mind, building owners and managers need to ensure they understand the future energy demands of their buildings, along with changes to the legislative landscape, before specifying and procuring air-conditioning systems. Similarly, contractors need to ensure they understand these drivers and the measurements behind them to ensure that the right equipment is used to help buildings to achieve these targets.
For example, when installing or refurbishing climate-control systems, building managers should look at the energy efficiency ratings (EER). EER is a measurement used to describe the heating and cooling efficiency of air conditioners. It is measured by assessing the ratio of heating or cooling provided by a unit relative to the amount of electrical input required to generate it. Thus an air conditioner generates 5kW of cooling from a 1kW electrical input, its EER is said to be 5.0. Therefore, the higher the EER, the more energy efficient the equipment is.
However, building managers are now paying particular attention to the seasonal energy-efficiency ratings (SEER) of their buildings. Unlike EER, SEER is a way of measuring the true energy efficiency of heating and cooling technology, but over an entire cooling or heating season. SEER takes into account a number of factors, which together provide a much more realistic view of energy efficiency in real-life conditions. The performance of the equipment is now measured across different climate zones, at both partial and full capacity, in both auxiliary and stand-by modes and over different load requirements across the seasons. The lower the rating, the better — and most importantly, it's a realistic measurement that brings us one step nearer to closing the performance gap of buildings.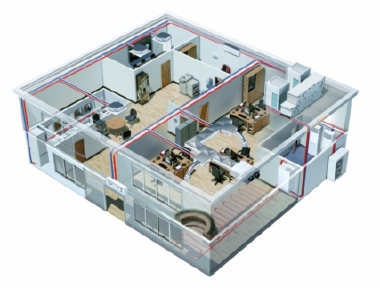 For building owners, the SEER rating is resulting in significant savings — not only from the improved data but also from the resulting product development. Innovations such as variable refrigerant temperature have lead to increases in seasonal efficiency of up to 25%; with newer systems offering the flexibility to achieve top efficiency throughout the year, balanced with a quick reaction speed on the hottest day or at peak loads.
In addition to measuring SEER, sizing plant correctly to enable building managers and users get the most out of their climate-control system is absolutely crucial, as even with the right EER and SEER calculations, incorrectly sized equipment can be detrimental to a building's energy targets. More often than not, building use, the size of the building serviced and its occupant levels will point towards the required plant size.
Only accurate specification can ensure that the system strikes a balance between performance and cost.
Under-specification can lead to a mismatch in required and actual cooling/heating outputs, while over-specified plant may result in increased operating cost and prevent the climate-control system from achieving its maximum efficiency.
To achieve this, manufacturers and distributors, such as Daikin UK, offer dynamic sizing software for VRV/VRF systems.
Our software, for example, is fully integrated with IES Virtual Environment (IESVE 2012) to deliver advanced modelling capability for heat-recovery VRV systems. It can run full thermal dynamic simulations and calculate annual loads, power inputs and efficiencies, which can not only be used as system efficiencies for Part L to meet regulatory requirements but also facilitate a tailored climate-control solution based on the building's heating and cooling loads, with automatic sizing of the VRV system and correct selection of indoor and outdoor units.
For building managers and owners to meet energy targets and to ensure correct specification and sizing of equipment, it is vital that air-conditioning contractors are engaged at the earliest possible opportunity during a design or refurbishment project. Contractors that are armed with the knowledge of Government legislation and energy-efficiency measurements and who have the right level of support from manufacturers and distributors can ensure the correct equipment is installed and that building owners are maximising the opportunity to reduce energy usage in their buildings in line with Government requirements.
Graham Wright is legislation specialist at Daikin UK.
Related links:
Related articles: