How to make dumb buildings smart

Although the world is going digital, many buildings remain stubbornly unconnected. Bruce Kirton of the Building & Engineering Services Association (B&ES) explains why this opens up huge opportunities for specialist operation and maintenance contractors.
The business of managing and maintaining buildings is becoming increasingly glamorous. We hear more and more about the opportunities offered by 'cloud' computing and the internet of things where devices and whole building-services systems can be wirelessly connected and, therefore, controlled and repaired remotely.
The potential in buildings is so attractive that global names we would not have associated with our industry just a few years ago are now big players. For example, Honda is supplying smart homes, Google bought the Nest intelligent thermostat business last year and even Facebook is applying its Wit.ai speech recognition system to improving connectivity in buildings.
The availability of these incredibly powerful technologies should make things much easier for building operators — as long as they can access them. Distributed control systems can be easily retrofitted to a building using wireless communication and the millions of low-cost digital sensors now available thanks to the commoditisation of computer technology.
However, the fact is that only around 25% of buildings in the UK could be considered to have any sort of control system worth the name. The vast majority are, effectively, 'dumb', so they must rely on traditional, old fashioned maintenance and repair methods. They are missing the 'bridge' from the traditional analogue world, where mechanical and electrical systems operate independent of anything else, to this brave new world of digital connectivity that promises so much more —particularly as 80% of the value of a building is realised during its operating lifetime.
The building-engineering sector regularly misses the big commercial trick, which is providing high quality information and post-occupancy operational support to the FM team or building operator after a project is handed over. As a result, buildings drift further and further away from their intended operating parameters — leading to a gaping 'performance gap' between how buildings are designed and how they are operated.
The building-engineering-services industry has a great opportunity to be that bridge to the digital world for FMs and building managers. Digital sensors and links to controls can be easily retrofitted. Upgrading lighting systems using LEDs also presents an opportunity to put more intelligence into the ceiling by adding occupancy sensors and CO2 detectors — in even the oldest of 'dumb' buildings.
This, allied to the availability of more sophisticated service and maintenance techniques, means the service and facilities sector has a great opportunity to narrow the performance gap and ensure buildings perform better.
The wider adoption of 'non-invasive' techniques such as thermal imaging and vibration analysis along with increased use of building intelligence means maintenance programmes can be based on usage rather than frequency. This, in turn, allows the industry to pre-empt equipment failures — saving clients huge amounts of money and disruption while also ensuring buildings perform more energy efficiently, just so long as you can gain access to performance data.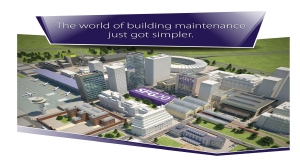 Our industry's traditional skills are the key to retrofitting intelligent systems into dumb buildings, and we can provide more system automation by piggy backing on the IT/telecomms networks that are already installed — of whatever level of sophistication. Increased occupancy monitoring of local lighting and HVAC systems can be delivered this way, for example.
There is still a job to do in persuading building clients about what is possible. The image of the oily rag and the man with the spanner still clings to the building maintenance industry. However, B&ES is already playing its part in instilling confidence in clients about the competence of the sector and demonstrating how service and maintenance can deliver real added value through the regular updating of its industry building maintenance standard SFG20.
SFG20 has long been regarded as the most respected source of guidance to building operators and has been adopted by major clients throughout the UK. These include Government departments and other public-sector end users, in particular, who use it to establish strategic maintenance programmes for many building types, including prisons, schools and commercial offices.
SFG20 is now available as a dynamic online tool so making best practice more widely available and easier to access. It features over 400 core maintenance schedules covering 66 equipment types. It also gives users the opportunity to customise maintenance schedules, including service times, frequency and criticality ratings. This guide is, therefore, fully aligned with rapidly emerging digital working methods and is constantly being updated to capture evolving service and maintenance techniques.
SFG20 can also help to smooth the way for the wider adoption of digital design methods, including building information modelling (BIM), by helping building managers present information in a standard, usable format.
These are exciting — and challenging — times for the facilities-management industry, and an amazing amount is now achievable by combining our traditional expertise and modern IT tools. Google, Apple and the like have the software and data management skills, but they need traditional engineering partners, supported by tools like SFG20, to make it all work and starting adding real, long-term value.
Bruce Kirton is chief executive officer of B&ES Publications. Find out more about how SFG20 can help streamline your maintenance costs and improve the efficiency of buildings visit the link below.
Related links:
Related articles: