Energy-saving retrofit
Maintenance and refurbishment work is a growing business for Airedale International Air Conditioning, which has a 50-strong technical team that provides a national maintenance, refurbishment and project management service. Adrian Trevelyan describes what can be achieved.
One of our biggest growth areas is the retrofit market, where we have built up considerable expertise working with clients such as Epson, the National Gallery, Reuters, Vodafone and numerous public-sector bodies.
The efficiency savings resulting from a retrofit programme can be substantial, with surprisingly rapid returns on investment. Our latest project with BAE Systems at Warton helped achieve computer room air conditioning energy savings of 70 to 80%, equivalent to £350 000 per annum. Normally you would expect a payback of 24 to 30 months on a project of this type but with BAE Systems we achieved this within just 15 months.
We are increasingly dealing with very savvy energy managers tasked with achieving challenging energy-performance objectives. In many cases, the easy wins have already been made so they need more of a solutions partner who can work with them on a long-term basis rather than provide a quick fix.
A typical retrofit programme would start with an energy survey to monitor and measure energy consumption over a period of time, usually one day or one week. After together selecting a suitable area for a trial and making the recommended upgrades, we would continue to monitor and measure performance over the same period of time to ensure like-for-like comparisons.
Along with our client we would then assess the results and help build a business case for rolling out an upgrade programme. We will then fully project manage the works which, on a large scale project like BAE Systems, can be complex
Downtime is generally one day per unit to upgrade to electronically commutated (EC) fans and a further day to implement electronic expansion valves (EEVs). Other units are kept fully operational during that time to maintain the facility's performance. Our engineers are air-conditioning professionals who understand and can adapt systems to ensure they operate as a whole. They have the skills and knowledge to commission and optimise each system to the specific conditions of each individual room and ensure compliance with F-gas standards where refrigerant changes are made.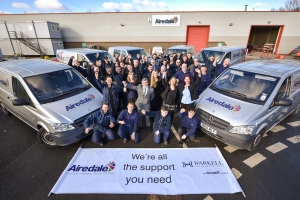 Our controls experts are often called in to design and implement control logic. Examples of their work include maximising the part-load efficiencies of components, networking and integrating units with the site building management system (BMS) to remote temperature and humidity control. They can also sequence units to reduce power consumption, ensure even wear of components and provide back-up in the case of maintenance.
At the end of the programme, the site typically benefits significant energy savings and has much better visibility and control over its cooling infrastructure. Installations of any size can expect to see quite significant results as a proportion of their total energy consumption.
A dedicated projects team also manages large-scale, complex upgrade programmes for key accounts, including major telecoms and rail infrastructure providers. End-to-end solutions encompass bespoke system design, where necessary, and managing all logistics — simplifying the specification and installation process for customers. We are seeing an uptake in demand for on-site rebuild projects. Often this is because of weight, size or logistical restrictions at the customer's facility, especially when inner city locations are involved. We build and test the product in the normal way, then reassemble it on site to the same high tolerances.
Our skills were tested in a recent project involving eight Airedale TurboChill chillers. The chillers had to be airlifted onto the roof of a central-London building so we designed and made them in 18 separate component parts to meet the helicopter's weight restrictions. Special design adaptions enabled the chillers to be reassembled on the roof with 50% less manpower and within just one week of each of the two 40-minute airlift operations.
Adrian Trevelyan is aftersales manager with Airedale International Air Conditioning.
Related links:
Related articles: