LED lighting for continuous runs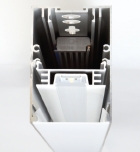 Ridi Lighting's Venice-LED lighting system provides a continuous light-channel solution. It is available for suspended or surface mounting and in recessed formats. This range uses LED boards with a extruded inner reeded optic to deliver seamless illumination and eradicate black spots and light peaks on the front diffuser — delivering a very uniform line of light.
Managing director Mike Attard says, 'It is cost effective, and its flexibility as a lighting solution ensures it can be used in a variety of scenarios — such as retail and educational buildings.'
Venice-LE used the embedded internal wiring system from the Linia-VL system. This system enables LED gear modules to be moved for increased flexibility and enables devices such as sensors to be pugged into the system with minimal disruption and installation time.
The range is supplied in natural anodised aluminium finish, or it can be painted in any RAL colour. Diffusers can be prismatic or opal.
Variations can be made with low-output uplighting on the top channel.
Related links:
Related articles: