Lightweight commercial duct leakage tester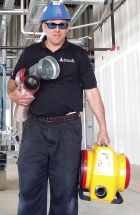 Retrotec's 450 series of small yet high-power positive and negative duct-leakage testes can evaluate systems to pressures beyond 5 kPa. Available from BSRIA Instrument Solutions, this units come in 110 and 230 V versions, as well as a Wi-Fi gauge option.
Precision flow orifice plates can be changed in a few seconds, reducing testing time.
The fan unit weighs just 9 kg.
Results are displayed in any flow units, corrected to STP (standard temperature and pressure). The DM32 digital touchscreen pressure gauge has an accuracy of ±0.5% of a reading.
Fast automatic documentation enables custom reports to be created with the user's logo.
Related links:
Related articles: