Digital actuator brings PICVs under BMS control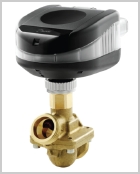 Danfoss's NovoCon digital actuator is designed for use with the AB-QM pressure-independent balancing and control valve (PICV), making it possible to connect an hydronic HVAC system to a building-management system via the BACnet communication protocol. NovoCon combines the functions of digital actuator, flow indicator, BMS communication device and datalogger.
NovoCon simplifies installation and commissioning and provides data that can be used for maintenance purposes. It also offers remote commissioning of heating and cooling systems via the BMS, including the ability to balance hundreds of valves with a single mouse click.
As an actuator, NovoCon can be used with AB-QM PICVs in sizes from DN10 to DN32 in a range of heating and cooling systems — including fan-coil units, chilled beams and radiant panels.
NovoCon functions as a flow indicator because of the high positional accuracy of the actuator and the pressure-independent and linear characteristics of the AB-QM valve.
NovoCon can be connected to a BMS using Fieldbus cabling to provide all setting and control functions.
Finally, the collection and storage of data can be used to benchmark building performance over time and identify best practice in energy-consumption behaviour.
Independent testing by Imtech, a European technical-services provider, reported easier installation and commissioning as well as added flexibility when making subsequent changes in a system.
The tests also showed that it was possible to install and commission the valve and actuator at the same time and receive visual feedback if a cabling problem occurred.
The tests also highlighted quicker and easier filling and flushing because valves can be fully opened when flushing dirt from the system. The NovoCon actuator also makes it easier to adjust flow if the building use changes — without having to access the valve directly.
Martyn Neil, commercial product manager with Danfoss, summarises, 'NovoCon's ability to provide system performance feedback and alarms on individual terminal valves will provide invaluable during installation, initial, seasonal and ongoing commissioning.'
Related links:
Related articles: