Sontay upgrades range of air DP sensors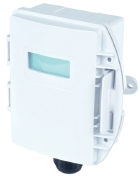 Sontay has upgraded its range of differential-pressure sensors for air with the introduction of the PA-65 (pictured) and PA60 models. They replace the PA-500 multi-range air differential-pressure sensor, and offer more benefits. These sensors have a snap-fit cover and come with a duct fixing kit.
The PA-60 is a cost-effective solution for measuring filter conditions and can also be used for other ventilation and air-conditioning applications in commercial buildings, laboratories and cleanrooms. There are four measurement ranges from 0 to 500 Pa. The user can select the type of output. PA-60 has ModBus or BACnet connectivity.
PA-65 is a multi-configurable sensor for differential-pressure measurements of air and other neutral gases in HVAC applications. Uni-directional or bi-directional pressure ranges up to 3 kPa can be selected. There are three analogue outputs — 0 to 5 V DC, 0 to 10 V DC or 4 to 20 mA.
Related links:
Related articles: