Fan-coil unit integrates into fitted furniture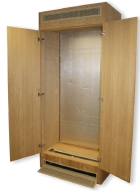 This split-level space-saving fan-coil unit from Advanced Air UK has many applications, but the most popular to date is to fit into wardrobes or cupboards for residential, education, leisure or hotel installations. The lower deck comprises the coil, valves and control, with a slimline connecting duct (about 100 mm deep) to the upper deck, from where the air is discharged.
The fan deck has horizontally mounted slow-speed very-quiet ECM fans (electronically commutated motors) that can deliver sufficient airflow at NR25 to achieve over 2.5 kW of cooling.
A significant saving in space is achieved compared to a conventional vertically mounted fan coil. The saving in space is up to 0.6 m2, which in some developments could equate to up to £6000 in usable space, representing a fraction of the cost of this new fan-coil installation — so the total cost of installation would be more than financed by the saving in space.
No access through the wardrobe is needed for maintenance, since changing or cleaning filters is made easy by a sliding frame on the lower deck at the front of the wardrobe. Access to the coils and valves is easily achieved through the lower deck, with all the water circuits at low level.
The unit can be adapted to fit a wide range of configurations.
Related links:
Related articles: