Tackling the issues of refrigerants

Proactive maintenance and refurbishment can be instrumental in maximising the energy energy and ensuring effective performance of air-conditioning systems. Marc Diaz of Panasonic Heating & Cooling puts a special emphasis on detecting refrigerant leaks.
Research from the Carbon Trust suggests that poorly maintained heating and cooling systems can waste up to 60% more energy than their well-looked-after counterparts. There is just one reason why, when specifying an air-conditioning system, it is crucial to consider maintenance and refurbishment as part of the initial design specification.
In particular, leak detection should play a major part in maintaining any air-conditioning system, as regulations governing refrigerants are particularly strict — and for good reason, as they can be extremely harmful to the environment. Topping up R22 systems is now banned within the UK, but is thought to still be used in a significant number of air-conditioning systems in smaller properties. This gives leak detection even greater importance, as the systems that contain R22 will most likely be older and thus more prone to leaks. Preventing leaks is essential to prevent significant environmental damage.
The environment and building occupants aren't the only ones to pay the price of a refrigerant leak. As refrigerant prices climb ever higher, the cost of replacing lost refrigerant can be very expensive, and can mean significant downtime for the system while it is replaced. Having a comprehensive leak-detection system and subsequent maintenance programme can also ensure that building owners do not waste money by continuing to top up their refrigerant while it is leaking somewhere down the line.
Keeping an air-conditioning system well maintained does not just save money on refrigerants, it also ensures optimal performance and that parts need replacing less often. Ideally any potential issues will be identified and solved before they become serious problems. Educating the client to the dangers and costs of leak detection and including a comprehensive leak-detection system in the air conditioning specification is essential for contractors looking to provide premium service to their customers.
At Panasonic we believe in trying to prevent leaks as early as possible and minimising the damage that a leak can do. That's why we have introduced our pump-down system, which continually monitors refrigerant levels, provides a warning when refrigerant levels drop and isolates that part of the system — preventing any major loss and potential damage to the system's efficiency. This gives building owners and managers peace of mind, because they know that any leak will be detected and managed automatically.
Regulations regarding the energy consumption of buildings are growing ever more stringent, with buildings in the UK being forced to reduce energy consumption and move towards zero-carbon status. One very effective way of meeting these regulations is by regularly inspecting air-conditioning systems to ensure they are running at peak efficiency.
Regular inspections are enforced by the Energy Performance of Buildings Directive (EPBD). To stay on the right side of the law, building owners must schedule inspections and report the results of these inspections to the central Non Domestic Energy Performance Certificate (EPC) Register. The recast EPBD also stipulates that buildings must move towards being zero-energy, a serious challenge for building owners and managers. An air-conditioning system that is poorly maintained so that parts that do not function efficiently risks increasing energy usage and adversely impacting a building's capability to reach its zero-energy target.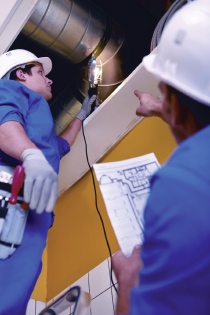 These tough regulations and need for regular inspections can provide contractors with the opportunity to offer clients a long-term service contract that can include maintenance, regular inspections and refurbishing the system where necessary for an annual fee. This can provide contractors with a stable, long-term source of income and help to strengthen relationships with existing clients.
The burden of regular maintenance and refurbishment can be too much for many end users to bear, and many of them may also not be aware of their regulatory responsibilities regarding maintenance and inspections. It is therefore crucial that contractors make clients aware of what they need to do and the timeframes in which they need to do it. Some manufacturers are helping contractors with this process by offering them customer handover packs, which provide a yearly maintenance schedule and make the customer aware that they need to complete these maintenance schedules, as dictated by legislation.
Regular inspections can often reveal issues that prevent an otherwise efficient system from functioning properly — such as a blockage, which can occur frequently in heating and cooling systems and increase running costs. Regular cleaning of fans, filters and ducts is also an important part of the inspection, as blocked components such as these can also reduce a system's efficiency. Modern air-conditioning systems are phenomenally energy efficient, but they need to be well maintained for building owners to take full advantage of their energy-saving capabilities.
More and more companies are looking to boost their sustainability credentials, and an easy way to do this is to reduce their offices' carbon footprint. Energy Performance Certificates and schemes such as BREEAM are very important in giving companies an opportunity to show off their environmental focus, and a well-maintained and efficiently run air conditioning system can make a significant contribution to a good BREEAM score and EPC. It is important to make this point clear to clients when putting forward a service contract, as it can put contractors in a prime position to make maintenance and refurbishment a profitable part of their business.
Marc Diaz is UK and Ireland country manager for Panasonic Heating & Cooling
Related links:
Related articles: