Interfacing lighting-control and building management systems
The control of lighting in a commercial building is inextricably linked with the HVAC services of occupied spaces.
Lighting control to provide effective lighting, operational efficiency and safety is an absolute necessity for occupants within a building.
Emergency lighting and illuminated signs are critical for the safe evacuation of people and the rescue services in the case of a power failure.
BS EN 50172 and BS EN 5266 for emergency escape lighting systems requires all emergency luminaires and signs to be regularly tested to a specified schedule to ensure correct operation. Automatic test systems ensure that emergency luminaires and signs are fully operational as manual testing can be unreliable and uncertain. The IEC6203 standard specifies the safety and performance requirements of the components of an automatic system designed to test emergency lighting systems.
This system automatically tests emergency lighting systems and ensures compliance with IEC6023. MLS controllers are based on Niagara software to operate with the DALI (Digital Addressable Lighting Interface) open protocol.
Open systems are a key driver in building management systems, with the Honeywell Niagara being a leading-edge technology in the integration of multi protocols for a wide range of building systems and services.
The Niagara software in the MLS controller enables configuration, execution, monitoring and reporting of emergency-lighting test functions with remote or onsite access.
Internet browsing provides a graphical user interface with the complete installed system and an inbuilt real-time logic function enabling pre-programing of scheduled events.
The MLS system's wide range of features includes over-ride for turning on lights for a security patrol, emergency test for executing a manual check and alarming to show if any components of the system being tested system are faulty.
Integration of the Ex-Or MLS controller with the building management system is via the BACnet open protocol, enabling zone-level occupancy information to be shared with the BMS. The Ex-Or MLS system controller/interface range is suitable for small, medium and large systems, as summarised below.
• MLSUCA, small systems. A self-contained wall or panel-mounted controller suitable for up to six RB2000 bus power supply units with a maximum of 127 Intelligent lighting-control modules (LCMs) per RB2000. There is a capacity of 250 managed lighting zones and 500 test channels, depending on the number of lighting zones, and one emergency test device per LCM.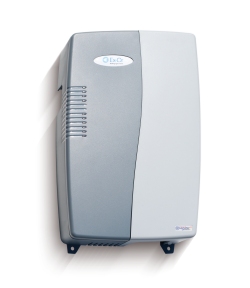 • MLSUCB, medium to large systems. A panel-mounted controller suitable for up to 13 RB2000 bus power supply units with a maximum of 127 intelligent LCMs per RB2000. There is a capacity of 500 managed lighting zones and 1000 test channels, depending on the number of lighting zones, and one emergency test device per LCM.
The MLS lighting test and systems controller is a comprehensive and expandable system with straightforward installation, set-up and configuration. Features include pre-programming of weekly, monthly and annual emergency-test schedules and time scheduling of lighting control functions.
The Niagara software interfaces with a BMS in a single system with no supplementary wiring for emergency test functions. DALI and BACnet open protocols are used for integration and control.
Remote and onsite access provides comprehensive testing and reporting with 'push' notifications of alarming to designated e-mail recipients. The Honeywell Niagara based system provides secure access for configuration, monitoring and re-programming without need for additional software or equipment.
Jim Sword, Sales Leader for CentraLine and Ex-Or, says, 'Announcing the EX-Or MLS emergency test and system controller is an important step in the integration of lighting control with building management systems.
'The MLSUCA andMLSUCB controllers use the same Niagara software framework as our Hawk range of products — which must be of great interest not only to our own CentraLine Partners but other installers that use the same technology.
'Although merging lighting control and a traditional environmental building management system is not new, the important change is the merging of the technologies in the case of open protocols, programming tools and hardware.
'This ultimately means the total system becomes more cost effective, simpler to install and easier to understand in terms of operation and maintenance.'
If you would like to know more about the Ex-Or range of products please visit the first link below.
Related links:
Related articles: