Sontay sensors are designed for car parks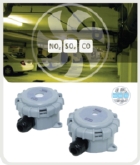 Sensors from Sontay for car parks ensure adequate ventilation and can also control the lighting in a car park. The GS-S and GS-CO ranges can monitor CO, CO2, NO2 and SO2.
The GS-S range of 4 to 20 mA loop-powered gas sensors are fitted into a robust housing and can detect NO2, O2 and SO2. They have a wide supply-voltage range of 7.5 to 35 V DC, and their accuracy is not affected by their positioning.
The GS-S-CO provides real-time detection for carbon-monoxide measurement and is available in Modbus-compatible versions for smart communication. This sensor includes selectable outputs (voltage or current) and uses a long-life electro-mechanical CO sensor that makes its specifically suitable for car parks, loading bays and warehouses.
The LL-E-V light-level sensor has a linear 0 to 10 V signal representing the lux level at the sensor element. It is typically used in lighting strategies to optimise energy efficiency by dimming and/or disabling lights. There are two selectable ranges — 10 to 2000 lx and 10 to 10 000 lx.
Related links:
Related articles: