Continuous-flow water heaters have A eco label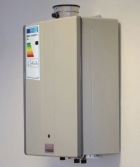 Rinnai's Infinity HDC1600i/e low-NOx gas-fired continuous-flow water heater delivers commercial quantities of hot water — up to 37 l/min on demand. Like all the company's gas-fired water heaters, it has an A-rated eco label and has an efficiency of 107%.
It has a modulation range of 14:1 (56.6 kW down to 4.0 kW) and can operate with a flow rate as low as 1.5 l/min.
The down-firing pre-mix burner achieves the ultra-low emission level of 30 mg/kWh (tested with natural gas based on gross calorific value under the condition of O2 0%).
Up to 25 units can be installed in a manifold bank to deliver over 24 000 l/h of hot water raised through 50 K.
There are no temperature-sensitive internal parts in these water heaters, so water that has been preheated by any type of renewable energy can be supplied to them. The same feature enables them to be connected to a recirculating system, which is especially useful for commercial buildings.
Related links:
Related articles: