Rinnai launches trio of commercial boilers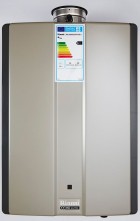 Rinnai has launched three condensing boilers for the commercial market. Infinity boilers have outputs of 50, 75 and 100 kW and are A rated under the ErP Directive, with efficiencies of 93%.
These boilers are available for natural gas and LPG and have innovative controls to maximise energy efficiency with advanced weather-compensation technology.
New combustion-control technology imbues the units with the capability to self calibrate, avoiding manual setting and automatically adapting to suit the gas quality.
Access is from the front, and minimal space is required for installation. Some units have a fully removable pivoting plate heat exchanger and burner for easy inspection and cleaning.
The range of ancillary options includes pressurisation units, manifold pipework assemblies, mounting frames, heating-system separators, boiler and water-heater combination packs, ancillary control options, external temperature sensor and advanced boiler controls.
The 50 kW boiler measures 855 x 440 x 393 mm. The larger two boilers have dimensions of 1020 x 565 x 548 mm.
Related links:
Related articles: