Enjoying the benefits of energy-efficient retro-fitting

The increasing abundance of retrofit solutions for lighting, heating and other key building systems offers the potential to improve energy efficiency — but without incurring the sometimes intimidating costs associated with entirely new installations, says Kevin Cox of Energys Group.
The motivation for businesses — be they large, medium or small — to investigate measures designed to reduce energy consumption is now truly manifold. Not only is there a regulatory impulse from both national governments and European institutions, there is also a moral dimension that encourages companies to do all they can to reduce their carbon footprints as the impact of climate change becomes increasingly apparent. Then there is the potential cost-saving that can result from next generation systems — a reduction that can be in excess of 60% in the case of the latest LED lighting technologies.
But while major corporates may be in a position to undertake dramatic overhauls of their technological infrastructures, the same cannot always be said of SMEs. Indeed, even some larger companies can struggle to make the case to shareholders in what remains an unpredictable economic period.
In these instances, the argument for exploring the opportunities presented by retrofitting — whereby new technologies are applied to older, existing systems — becomes highly persuasive. Not only can they allow businesses to enjoy reduced energy consumption across lighting, heating and other core building systems, they can also deliver these benefits with far lower installation costs and a fraction of the disruption that may be encountered with entirely new fit-outs. In addition, there are also a number of attractive financing options that can help businesses to achieve this transition.
At Energys, we have consistently targeted primary sources of energy waste to devise solutions that allow businesses to achieve financial 'easy wins'. In particular, retrofit energy-efficient lighting systems can deliver dramatic results. For example, our T5 adapter, Save It Easy, enables old-style fluorescent lamps to be replaced with more efficient equivalents in the existing light fittings. Energy savings resulting from such retrofits can be in the region of 65% — and there are also the proven long-term benefits for employee health and performance to bear in mind.
But our findings suggest that fewer businesses have contemplated retrofits affecting other building systems such as heating and general power supply. A technology such as boiler optimisation — which allows the efficiency of a boiler to be improved without any detrimental effect on the temperature of the building — can be installed in just a few hours with a minimum of disruption. But the long-term knock-on benefit can be substantial, with typical energy savings of 15 to 30% per year and payback on the entire project achieved in no more than 24 months.
Similarly, there is now an abundance of solutions aimed at overall power optimisation. These typically involve devices that are situated between the electricity supply and lighting distribution board, with the effect of reducing voltage, improving power factor and smoothing harmonics. Once again, the result is reduced energy consumption, with savings in the region of 40% by no means uncommon.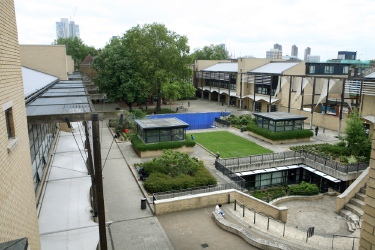 Businesses may also be advised to instigate energy-saving sound surveys to remove leaks of compressed air and other gases, as well as invest in reusable insulation covers for plant room equipment so that no heat is wasted.
It is now common for businesses to seek to implement multiple such measures simultaneously. The same is true of other sectors, such as education. For example, a recent retrofit upgrade at Hackney Community College (HCC) in East London entailed the conversion of 4900 lamps to LEDs, as well as the implementation of boiler optimisation controls and specialist insulation. The switch to LED alone is expected to generate an annual energy saving of £70 000, whilst the overall upgrade is on course to pay for itself in just over 2.5 years.
HCC successfully applied to the Salix Finance Scheme, which continues to help many public-sector organisations make the change. There are also several programmes aimed at helping commercial facilities to implement energy-efficient technologies, including leasing schemes, loans provided by Siemens Financial Services at commercial rates of interest, and Government-backed Carbon Trust loans for SMEs in Wales and Northern Ireland.
Applying for funding under these and other schemes can be difficult and time-consuming, but the good news is that many specialists (including Energys) are now more than happy to assist with the application process. Once again, then, it is evident that tapping the services of a collaborator with a proven track-record in energy efficiency can make all the difference to the fruition of a project.
Far from being limited to the conversion of lighting systems, energy-saving initiatives can encompass heating, power optimisation, control and other core building systems. While sizeable investments may be attached to such upgrades, retrofitting provides the best possible way for businesses to benefit from the latest technologies without incurring all the costs of 'from scratch' installations.
Kevin Cox is managing director of Energys Group.
Related links:
Related articles: