The great British heating refurb
As environmental legislation continues to tighten, a continued focus on improving the energy performance of UK buildings is essential if the nation is to achieve its new goals. One practical opportunity for improved efficiency lies with the boilers, says Paul Arnold
If the UK is to meet the Committee of Climate Change's new climate change target of 'net-zero' by 2050, addressing the energy performance of our notoriously inefficient existing buildings is critical. As a large user of energy in a building, heating has been identified as a natural target for efficiency improvement, particularly in the UK's older building stock. 50% energy savings
As commercial boilers are the heartbeat of many non-domestic buildings, whether the sole provider of heat or operating in a hybrid system, ensuring that they operate efficiently should be a priority.
Replacing any ageing, non-condensing boiler plant with high-efficiency condensing boilers and adding the appropriate controls can transform a building's energy performance. In our experience, it can reduce energy usage by as much half with an associated fall in emissions and costs. At the same time, ensuring a more reliable and efficient heating provision contributes to a more comfortable home or work environment, helping improve occupant wellbeing and increase productivity levels.
And summer is the perfect time to identify which boilers are reaching the end of their lifecycle and need replacing before the colder months set in.
The goal when replacing old boilers with new condensing boilers must be to maximise heating efficiencies while ensuring easier future servicing and maintenance for lower whole-life costs.
With this in mind, the first step when refurbishing the heating system in existing buildings should be to calculate the current heat load.
Taking time to resize the heat demand is essential as both the fabric and how the building is used may have changed since the last boiler installation. And as condensing boilers modulate, adapting to meet peak and low loads for more efficient energy use, calculating both the maximum and minimum heat demand will help achieve a more accurate calculation to avoid oversizing.
When it comes to boiler selection, sharing the heat load across multiple condensing boilers rather than installing one large output boiler is a highly effective way of meeting the fluctuating demand of non-domestic buildings. The arrangement also provides greater efficiency, improved reliability and more straightforward, non-disruptive maintenance for long-term high performance.
Typically, manufacturers will provide time-saving, space-saving, site-assembled linear and back-to-back cascade options for two to ten wall-hung boilers.
On projects with particularly tight schedules and space constraints, it's worth considering applying a bespoke solution. Manufacturers like Remeha offer the opportunity to install any number of multiple wall-hung boilers on an offsite-manufactured rig unit that can be designed specifically to meet individual project and site requirements.
High heat demand? Some manufacturers also offer the option to use an off-site fabricated cascade arrangement for up to eight floor-standing boilers with an individual heat output of up to 300kW. This enables a high heat output to be installed in a small footprint, making it easier and faster to improve heating efficiency in restricted spaces.
On both solutions, the boilers can either be delivered to site on a wheeled unit or be designed to split into smaller modules for simple re-connection in buildings where access is particularly restricted.
Controls are the next consideration. To maximise boiler performance throughout its lifecycle, it's important to ensure that the boiler and system controls are easy to use and in place from the outset.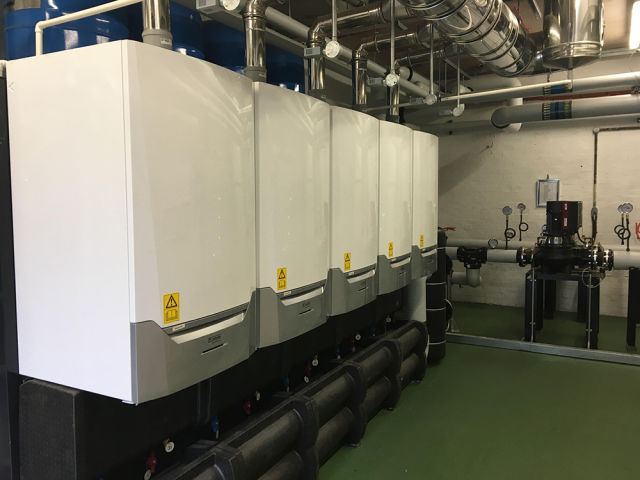 For this reason, the latest condensing boilers are supplied with smart onboard time and temperature control as standard. Providing functionality is one thing, but ease of use is crucial if the control capability is to be used to its full potential. So the controller on boilers like our Quinta Ace wall-hung range, for example, has also been completely redesigned to enable faster, more accurate programming and commissioning.
These next generation controls also make servicing and diagnosis more straightforward, helping keep down whole-life costs while keeping efficiencies high. And as building operators will find them intuitive to use on a day-to-day basis, the new design further contributes to lower heating bills and reduced energy demand.
Why the emphasis on good control? With the appropriate control, the modulating nature of condensing boilers is used to maximum effect, providing more or less output according to the requirement of the system. Using a sequential control ensures more effective and reliable operation when installing multiple boilers – and drastically reduces the number of starts. Adding an outside sensor allows the boilers to use their complex algorithms to adapt to the varying requirements of the buildings at different times of years and according to the outside temperature. All of which optimises system efficiency for minimum environmental impact and maximum cost savings.
A frequent concern when refurbishing older heating systems is water quality as sludge and debris in the existing system can affect both the performance and lifespan of boilers and the heating system.
To protect the new boilers and extend their lifecycle, it is therefore advisable to consider segregating the two circuits. This is often achieved using a Plate Heat Exchanger (PHE). To simplify and speed up installation manufacturers also offer the option to incorporate a PHE (along with a dosing pot) into a bespoke rig or cascade design, sized and selected to meet the specified boiler output and system temperature requirement.
As with all boilers, adopting a regular maintenance and servicing programme for the condensing boilers will ensure continued high performance. Additional features like internal lights or the availability of spare parts kits make maintenance of condensing boilers a faster, simpler process. And as the latest boiler models are designed to enable easy part removal and replacement, this again reduces operational costs.
Good manufacturer support adds immeasurable value to heating equipment. Free downloads of accurate, up-to-date product information and BIM files will support asset management, helping building operators or facilities managers make informed decisions about heating and planned maintenance. BIM can also assist in supply chain collaboration and with the procurement process or costing decisions, again resulting in time and cost savings.
Moving the nation to low carbon heating is one of the toughest challenges facing the building services industry. While new builds should be designed to meet high efficiency criteria, improving the energy efficiency of existing buildings is a practical, low-cost and necessary measure to reduce emissions from heat.
As the humble boiler is an important component of the plant room, efficiency arguably starts here. Replacing any inefficient plant with cost-effective, highly-efficient condensing boilers remains a pragmatic, effective means of achieving considerable energy, emissions and cost savings for end users.
And with good manufacturers supporting consultants and contractors with technical expertise and a comprehensive range of reliable, flexible, high-performing boilers, suitable for every application, we can achieve the best, most appropriate and energy-efficient commercial heating solution in every building, every time.
Paul Arnold is Remeha's product manager
Related links:
Related articles: