Venture Lighting's new catalogue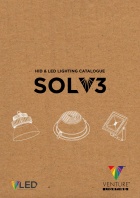 Venture Lighting Europe's latest catalogue on HID and LED lighting solutions runs to 125 pages and can be downloaded from the company's web site. As well as launching new products, the company has also unveiled two new brands — Vluma and Emerg-EVAC.
Vluma brings together products that are designed to deliver high performance while achieving optimum energy efficiency and savings. They include the new LED edge-lit panels, MED midibays and LED highbays professional range.
Emerg-EVAC includes the new 3 W emergency downlight kit, which can be used remotely or in addition to existing light fixtures.
The catalogue includes payback calculator, trade pricing index and overview of technical features.
Related links:
Related articles: