Smart sensing

To fully understand how efficient a building is you need data, and this is where the humble sensor can play a pivotal role — as Sandy Damm of Sontay, explains.
The amount of data being collected from commercial buildings is growing all the time, and it can be immensely valuable to building managers and end users. It has the potential to reduce wastage, improve maintenance schedules and provide ever-important cost savings. However, this information is hardly ever utilised, even though it is often easy to access and understand.
When it comes to building services and HVAC equipment, the operating conditions are often determined by readings produced via building controls and sensors. These devices have been relaying information to the building management system (BMS) for decades, and their capabilities are developing all the time, which is mainly due to the growth in Internet connectivity of such products.
It all comes down to how the data can be accessed in the Internet of Things (IoT), which is where sensors can play a vital role. They are inherently smart — measuring, analysing and evaluating all sorts of building performance data and making this information available to the control system. The data can then be provided to energy and facilities managers over the web to remote PCs, tablets and smartphones. This, in turn, can be stored in the cloud and made readily available for collation and analysis to improve energy management, facilitate better maintenance and repair regimes, and help end-users improve how they utilise their buildings.
By pulling together this information and using it to determine the actions of connected devices, we can create a truly 'smart' system. Increased device-to-device communication has an important role to play and we are seeing a high number of devices and control systems using the Internet protocol alongside traditional protocols for communication, such as BACnet and Modbus. Wireless variations of intelligent control devices are also becoming much more readily available, making it easier to build, extend and increase the range and capabilities of a unified, integrated system.
In the UK, many building control systems operate using either BACnet or Modbus networks. However, there are very few sensing devices that communicate directly with these protocols. This means that system integrators would need to install a gateway to connect the whole system. Selecting a sensor that can communicate with either protocol (for example, the Sontay Smart Communication Sensor) makes systems easier to connect, configure and operate. It will save installation time as well as provide better communication with the rest of a building's control system, helping it to make intelligent choices.
These smart sensors can also monitor a number of variables, thus offering total environmental sensing in one single space or plant housing and minimising the dreaded wall acne created with multiple devices. This type of sensor can measure temperature, RH, CO2, CO, air quality, light level and occupancy and even offer user interface options such as set point, fan speed and momentary switches.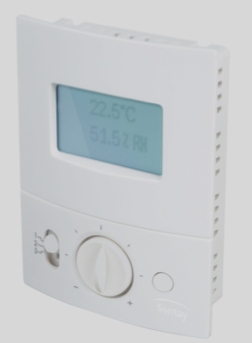 Whereas traditional sensors require up to nine cable inputs into the controller, smart sensors only require one simple cable connection. By installing just one smart sensor, system integrators and building owners can reduce installation time, simplify the configuration process and still have reliable monitoring for several variables.
Wireless technology is also making headway in the development of intelligent sensor products. For example, our RF-IOM-4A-4U Input/module works in conjunction with SonNet sensors and routers; this clever device acts as a local I/O with connectivity to typical HVAC equipment, such as fan-coil units or variable-air-volume boxes. The module can take any 0 to 10 V DC, 4 to 20 mA, resistive or VFC signal from wired devices in the field and transmit them to a SonNet receiver — either a traditional analogue receiver or a network radio receiver. The radio receiver will allow integration with smart communication protocols such as BACnet as well as offering compatibility with a Tridium JACE controller on the Niagara framework and Trend systems.
Reliability is an important factor to ensure that devices can communicate the data they collect as efficiently as possible. This is a key consideration for integrators when they are choosing a wireless system. No end user wants a system that drops in and out and cannot be relied upon to provide accurate and continual measures.
Within the modern building, we are looking for sensors that are intelligent, open and always online. The data they collect and communicate in our increasingly converged and integrated building controls world will become ever more important as they fulfil their demanding role. This in turn will help us to manage buildings better and drive energy efficient improvements. This is the new world and, as an industry, it is time we embraced it.
Sandy Damm is managing director of Sontay.
Related links:
Related articles: