The true value of convergent control solutions
What are the benefits of convergent control solutions? And how can you sure you are getting a truly open and interoperable system? Mike Welch of Control Network Solutions shares his view and outlines five key questions that will help building-services professionals to identify the solution that is right for them.
Controls are one of the most cost-effective ways to substantially reduce operational, maintenance and energy bills in commercial buildings. However, some building-services engineers, specifiers and facilities managers still think of such controls as expensive building management system (BMS) or lighting solutions.
Often, this view has been cultivated by previous bad experience or a lack of awareness of today's market-disruptive innovators and new delivery channels.
The building- and lighting-controls industry, once quite slow to evolve and innovate, is now witnessing new solution innovators and delivery channels entering the market. Convergent technology, which involves the integration of two or more different technologies into a single device, has irrevocably changed the building- and lighting-controls industry — offering end users increased flexibility, choice, energy savings, sustainability as well as providing seamless access to device level data.
The benefits of convergent technology, as outlined by the recent report 'Convergence — what is it really good for?' from BSRIA are numerous and far reaching. It enables building services' sub-systems such as air-conditioning, heating, access control and lighting to be seamlessly and directly connected to, commissioned, controlled, managed, visualised and analysed by the facility's building-management system (BMS) — allowing informed and intuitive decisions to be made concerning the timing and level of output.
Furthermore, such convergent smart Internet of Things (IoT) solutions remove layers of unnecessary equipment that drain energy and money, giving the end user more in terms of flexibility and choice. This means they can choose who delivers, operates and maintains their system, as well as having full control over future equipment and software preferences.
However, these benefits are contingent on a vital condition. To fully extrapolate the value of these technological advancements in the building- and lighting-controls industry, the particular solution must operate to truly open and interoperable standards.
The process of identifying truly open and interoperable standards can be a confusingly, frustrating experience. International Electrotechnical Commission (IEC) standards alone don't guarantee that a product, solution and brand provider's offering is interoperable. That means that the building owner, developer, manager and user cannot assume they can mix and match any device or solution, no matter who made it, and guarantee everything will work together.
This can lead to additional administrative and bureaucratic workload in the form of proprietary and private communications data packets, hardware and software, commissioning tools and processes. All of this is at the expense of the client — both at point of delivery as well as future operations and maintenance.
It is therefore necessary for building-services professionals to ask the following questions when determining whether a building- or lighting-control solution is truly open and interoperable.
1. Are the offered solutions based on any internationally recognised, open, interoperable, published intelligent communication standards?
They should be recognised IEC published standards and potentially augmented with additional functional standards to guarantee multi-vendor interoperability.
2. How much of the solution is based upon these standards?
It is best to have the provider draw the system architecture from end device all the way to the top — describing what interoperable communication standards are being used to interconnect all products throughout the system.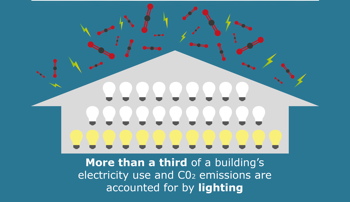 3. Can you add or retrofit control products to the offered solution from other manufacturers/suppliers that meet the same international open standards?
Best practice for building managers is to create a list of these alternative product/solution providers and contact each supplier for written confirmation that they are guaranteed to interoperate.
4. Are both hardware and software products created and supplied by one company?
If so, this should ring warning bells that this could be a single-vendor solution, and there might be negative results in terms of support, on-going developments relative to the market, future pricing and costs.
5. Who is delivering, maintaining and operating the solution?
If the entire solution is not only single branded but is being delivered by the same organisation, then this has even more potential for concern regarding single-vendor supply issues over time.
An example of a building-control solution that runs on a truly open, international, interoperable standard is Elitedali lighting controls. It runs on the only global interoperable standard for lighting control at present. Digital Addressable Lighting Interface (DALI) IEC 62386, guarantees complete interoperability between all manufacturers of products that are designed to the standard.
The Elitedali technology enables global de-facto standard BMS platforms based upon Niagara to be the entire lighting-control solution. With the ability to halve total lighting energy consumption, Niagara lighting controls based on Elitedali contribute significant energy savings, whilst accounting for less than 1% of the building's energy use.
Created with the IoT in mind, the Niagara Elitedali lighting controls enables light fixtures to be controlled both locally and remotely using any suitable web browser and smart mobile device, meaning changes can be made to lighting settings and control strategies instantaneously.
Requiring less initial investment, By using the already installed BMS, Elitedali smart lighting controls require less initial investment.
By undertaking appropriate research and asking the relevant questions prior to specification, building-services professionals can avoid the pitfalls of single-vendor non-interoperable solutions and harness the true value of convergent technology to deliver significant cost and time savings to their company.
Mike Welch is managing director of Control Network Solutions.
Related links:
Related articles: