Biddle adds intelligence to air curtains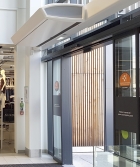 Biddle describes its SensAir air curtain as 'the next generation of comfort air curtain' Designed with built-in intelligence, these units respond to indoor and outdoor temperatures in the door opening by self-adjusting comfort settings to supply conditioned air and make significant energy savings.
Evidence of comfort levels and energy efficiency is provided through the monitoring system. These units have touchscreen control and can be connected to a BMS using the Modbus protocol.
SensAir is designed for doorways from 2 to 4 m high and available as an unobtrusive recessed model or as a wall-hanging option.
Heat from be from hot water or electricity, as well as DX. Hybrid and ambient models are available.
Related links:
Related articles: