Floor-standing boilers have comprehensive controls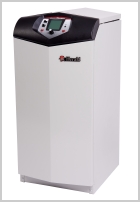 Lochinvar's Herald range of floor-standing commercial boilers comprises eight models with outputs from 41 to 221 kW and a 5:1 turndown ratio. They have 316L stainless-steel heat exchangers that greatly improves resistance to corrosion and are supported by a 10-year warranty. NOx emissions are 39 mg/kWh, which qualifies for the maximum three BREEAM points.
With a working pressure of up to 11 bar, Herald boilers are particularly suitable for high-rise buildings. They can deliver a flow temperature of up to 88°C with a ∆T of 30 K.
The width of 394 mm enables these boilers to pass through a standard doorway. The largest model has a footprint of less than 0.5 m2. The tallest boiler is 1080 mm high.
The various flue options include horizontal or vertical concentric flue and conventional where runs of up to 60 m are achievable. The conventional flue outlet connection is at the back of the boiler, making it a replacement for traditional atmospheric boilers.
Integral controls mean there is no need for a BMS, although a connection to a BMS is available. The controls provide pump modulation in line with operating conditions and weather compensation. When used with an indirect hot-water cylinder, the system provides a temperature-controlled pasteurisation process to prevent the build-up of legionella bacteria.
Related links:
Related articles: