Free-cooling chillers deliver efficient cooling for Lincoln University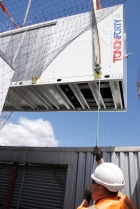 The first UK installation of free-cooling Tonon chillers supplied by Cool-Therm is providing high-efficiency air conditioning for the science building at the University of Lincoln. Two 165 kW chillers, based on R410A, have replaced two chillers that had reach the end of their working life.
The new chillers are installed on the roof of the building to provide cooling for air-handling units serving laboratories, teaching spaces and offices.
The free-cooling capability was specified by the university and is expected to reduce energy consumption by as much as 30% compared to a standard chiller.
The free cooling is achieved by a large-capacity twin-headed pump circulating a glycol solution around the heat exchanger of a chiller when the ambient temperature is sufficiently low to provide cooling without using mechanical refrigeration.
Plant is sized to give capacity for future expansion.
The turnkey programme delivered by Cool-Therm involved a full programme of works, including decommissioning and removing existing cooling plant and installing the new units.
The site logistics required a temporary aluminium road to enable a crane to lift plant on and off the building, spanning a grass bank and dyke.
Related links:
Related articles: