Rehau district-heating pipework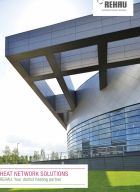 There are 12 compelling reasons to install Rehau's range of district-heating pipework — and they are spelt out in a new 12-page brochure. One reason is that the company's pipework uses 10% less material than steel and has fittings that are up to 50% quicker to fit — with no hot works.
Another benefit is the Duo form of the pipework being available in lengths of up to 400 m, so fewer joints are required.
The brochure also highlights Rehau's UK-based sales and technical-support team, BIM modelling capability and UK manufacturing.
There is also guidance for specifiers on choosing between Rauvitherm and Rauthermex products, depending on the thermal performance and flexibility requirements of the project.
There is a focus on some high-profile recent installations, including Soho Farmhouse in Oxfordshire and the Portmeirion village that was made famous as the setting for the 1960s television series 'The prisoner'.
The brochure can be downloaded from the Rehau web site (see below) and is available for mobile or tablet via the Rehau Docs app.
Related links:
Related articles: