MHS Radiators supplies LSTs for special needs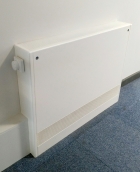 The re-opened Phoenix Centre facility for special education needs in Wigan following extensive renovation includes LST (low surface temperature) radiators from MHS Radiators. M&E consultant NPS Group identified LST radiators as the most appropriate product, given that the occupants would be children of various ages, and MHS radiators supplied 39 Ambiguard radiators.
Heating was previously provided by fan convectors, which were removed. The existing pipework in the single-storey building was re-used.
Features of Ambiguard radiators include 'pencil-proof' locking grilles, lockable access grilles and reflective backplates to enhance heating efficiency.
Lorraine Green, mechanical engineer at NPS specified the MHS radiators having been let down by a previous supplier. She said, 'The radiators arrived within the specified lead time, and the feedback on site from the contractors has been very positive.
'I have already specified MHS radiators on an upcoming project, using a different radiators from the company's steel panel range.'
Related links:
Related articles: