Zumtobel creates lighting solution for Durham University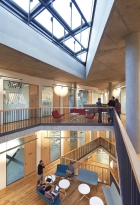 Interior and exterior lighting for the new Ogden Centre for Fundamental Physics at Durham University is provided by Zumtobel luminaires. The £11.5 million development will provide 80 new offices for professors, lecturers, doctoral students, postdoctoral researchers, support staff and visiting academics. There is also a 100-seat seminar/meeting room, social space and breakout rooms with video conferencing facilities.
A spiral in plan, the centre appears to be two stacked forms clad in a larch rainscreen with bands of windows and terraces cutting across the facades. All the offices are in a ring, so each space has a window with natural light with a frosted-glass screen to create a luminous and open environment throughout. Skylights bring light into the central atrium and flexible meeting areas.
Zumtobel's Tecton, Chiaro2 and Linaria LEDs meet the stringent sustainability requirements ot the project and the policy to minimise environmental impacts and ongoing running costs.
Tecton trunking, Tecton LED luminaires and Iyon LED spotlights were installed in the main offices.
Tecton is a continuous-row luminaire with an 11-pole current-conducting section built into its trunking, making it ready equipped to meet all future needs. All functions such as power supply, lighting control and connection to emergency lighting are integrated into this trunking.
Tecton LED and Lincor direct/indirect pendant luminaires were chosen for the open areas.
The building is controlled via Litecom, which is daylight linked. All areas can be commissioned to incorporate natural-light energy savings where applicable.
Related links:
Related articles: