Storage facility uses PoE with LED lighting system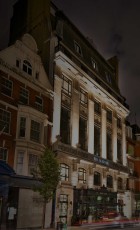 Prolojik's PoE (power over Ethernet) Lightmatrix system controls LED lighting in The Armitage secure-storage facility in Marylebone, London. The system was chosen in part to meet the challenge posed by a particularly low service void throughout the building and is based on data cabling rather than electrical wiring, so that the majority of final circuit and associated containment are not needed, significantly reducing space requirements.
The system was specified by Tuckers Consultancy and installed by R B Emerson Group.
Lightmatrix also enables integration with other building controls, in this case the door entry system. Storage clients can use their key fob for entry, with the key fob acting as a wireless controller for the lighting of the individual storage units.
Communal lighting is controlled by PIRs to illuminate areas as people enter them.
Lightmatrix combines plug-and-play data cabling with DALI standard features into a lighting control system that is easy to install. Energy consumption is reduced by about 11% compared to a 240 V system, and installation costs are reduced by about 30% in a typical commercial building.
Related links:
Related articles: