LED lighting meets power over Ethernet
The low power requirements of LEDs means that power and control can be delivered using the same cabling opens up huge new possibilities for lighting — as John Niebel of amBX explains.
The advent of connected lighting means that power-over-Ethernet (PoE) lighting systems will become commonplace in the next few years, much in the same way as VoIP (voice over IP) has in telephony. Network-connected lighting control will mean that lighting systems will become much quicker and easier to install and faster and richer in configuration.
Connected lighting will produce lower installation costs and a lower total cost of ownership. Philips and Cisco have both evidenced a 50% reduction in installation costs for Ethernet-based connected lighting systems compared with conventional AC-powered systems.
In addition it will deliver major operational savings, with up to 75% energy savings in commercial and public installations switching to LED — leading to massively reduced total costs of ownership.
This has all developed because standard network cables can now be used to power LED lights. It means that power can be provided through the same Ethernet cables that would already be in place to run a building's IT network, which in turn opens up a whole new world of possibilities
Although such cables were designed to carry data, the availability of up to 60 W of power over Ethernet cables means there will be a migration of lighting in commercial buildings to data networks for both power and control. Another consequence of this development is a reduction in the number of cables needed to install and power a lighting system, which is also vastly easier to maintain and adjust than a conventional wired system.
This new way of controlling lighting is now possible, one that breaks the 'if this, then that' programming model. It is a new paradigm in control that ensures that the optimum desired output is always achieved. We can characterise this new way of doing things as better, faster and cheaper. Often when discussing such changes in technology it is possible to have any two of these benefits, but not all three. However, with connected lighting and suitable control software, it is possible to achieve all three at the same time.
This paradigm shift will not only deliver high performance lighting control using a building's Ethernet network and remove the need for costly wiring and complex technical interfaces but also enable richer lighting experiences to be easily implemented. Our own software, for example, is platform agnostic and can be used with PoE systems — wirelessly, with PLC or using existing control protocol options. This allows the possibility of seamlessly controlling old and new technology at the same time.
The energy-saving performance of LED lighting has been well documented, but this control technology offers benefits beyond merely saving money and delivering green lighting. This software will also enable building owners to use richer, bio-adaptive lighting in new ways to create healthier, more productive workspaces and environments. This will lead to better human-centric lighting at desks, in meeting rooms and public spaces, in terms of intensity and colour changes.
The impact of lighting on human performance and wellbeing is becoming widely understood, and new systems like these will be able to deliver more appropriate lighting.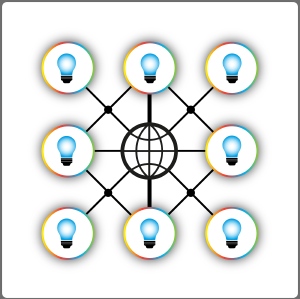 Bio-adaptive lighting provides artificial light controlled in such a way as to match the needs of human biological cycles, or circadian rhythms (our physical, mental and behavioural changes that follow a roughly 24-hour cycle, responding primarily to light and darkness) in the most effective and appropriate way. It supports improved health and wellbeing and aspects of human behaviour that benefit from varied and changeable lighting. The software can also be combined with daylight-harvesting systems.
It will deliver better integration of lighting with other systems. Improved use of sensors will provide better lighting control for optimal light settings and energy usage.
The technology is proven. We have provided the software that runs one of the world's first fully PoE powered and controlled office spaces at the University of Strathclyde's Technical Innovation Centre as part of Cisco's Light as a Service (LaaS) initiative.
Complex programming has long been the Achilles heel of lighting control. This technology works simply by controlling the lighting in a single space or multiple spaces based around end-user needs, environmental factors such as levels of daylight, time of day, temperature, whether the space is in use or not and any other measureable parameter.
The system software can take account of all these factors and produce, in real time, the best implementation possible of the desired outcome using the light fittings that are available. In effect the software produces the perfect virtual implementation of the desired outcome and then projects the best representation possible of that in the real world using the lighting available.
The software controls the lighting experience using the lighting devices available and works with a very wide range of lighting control protocols for maximum compatibility. Different types of light and different lighting control standards can be harmonised to deliver the desired experience via amBX Light-Scenes.
Because this is software, the outcomes (dynamic or static light scenes) it produces are scalable. This ability to scale is fundamental to saving commissioning time. Similar light scenes can be applied to a few lights, tens of lights or even hundreds or thousands of lights.
John Niebel is CEO of amBX.
Related links:
Related articles: