Reduced-NOx CHP for first NHS proton beam therapy centre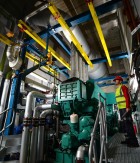 Supporting the work of the first NHS high-energy proton beam therapy centre for The Christie specialist cancer centre in Manchester is the latest CHP technology from Veolia to reduce energy costs and carbon emissions. Part of Veolia's new packaged CHP range, the 240 kW(e) unit uses a 3-way catalyst to reduce NOx emissions and protect local air quality.
The CHP unit will deliver 2100 GWh of electricity and 3200 GWh of heat each year and save about 380 t of carbon emissions.
Gavin Graveson, Veolia's chief operating officer for public and commercial, said, 'Recent estimates show that CHP and energy efficiency in the NHS have contributed to energy savings of £25 million over the last year. By delivering energy security, sustainability and cost savings, CHP represents good engineering, good economics and good value for money for the NHS.'
Related links:
Related articles: