Delivering the time-saving benefits of plastic pipework
Despite the huge installation-time savings possible with plastic pipe, MARTYN ROWLANDS is concerned that these benefits might be squandered by poor installation practice.Some 40% of construction projects in the UK overrun the scheduled completion date according to BSRIA, often at a cost not only to the end client but also to contractors and installers, with penalty clauses passed down the chain. With that in mind, specifiers and contractors are constantly looking to reduce the time it takes to complete installations on site. If delays occur within the first stages of a development, it can be tempting for contractors to take short cuts when fitting systems such as pipework. This may save immediate time and costs but can often result in heavy costs for the end client in the long term and potentially jeopardise the success of a project. Frequently, the installation process is not considered when pipework is specified, which can often result in this stage taking longer than originally anticipated and causing even further delays to the development. When looking to specify a pipework system, particularly if there is a tight deadline, specifiers and contractors need to consider the factors that will impact on the installation time such as how easy/difficult the pipework is to handle on site, what level of skill is required to fit the products and the jointing method that the system requires. Research into these factors at the outset will offer a better indication how long the installation process will take, and an informed decision can be made — ensuring the most appropriate product is selected.
Cost comparisons
To help contractors and specifiers, independent installation-cost comparisons are available to the market and should always be referred to and integrated into any decision-making process regarding pipework. The Innovative M&E Installations ACT 5/2000 Datasheet 5.3 compares using thermoplastic pipework with traditional screwed steel pipe and clearly demonstrates the advantages of thermoplastic over steel, indicating that the use of thermoplastic pipework with cold-solvent-welded joints can reduce installation times by up to 60% compared to steel pipework with screwed joints. Datasheets (see table) can help verify instant savings that can be made. For innovative M&E installations ACT 5/2000 Datasheet 5.3 clearly demonstrates that the jointing process with thermoplastic material can save the greatest amount of time, offering as much as a 69% time saving over traditional jointing methods such as threaded, welded or soldered metal systems. This is mostly due to the fact that most plastic pipework can be solvent welded, which does not require special tools and equipment or hot-works permits, as with traditional jointing methods — so immediate time savings can be made. The other major factor affecting the installation time of pipework is how easy/difficult the pipework is to handle on site. Thermoplastic pipework is about half the weight of copper and one sixth the weight of steel, which makes it significantly easier to handle on site, so labourers can move pipe more quickly. Its light weight also simplifies the fitting of plastic pipework in confined spaces and areas with difficult access, such as narrow service risers or ceiling voids.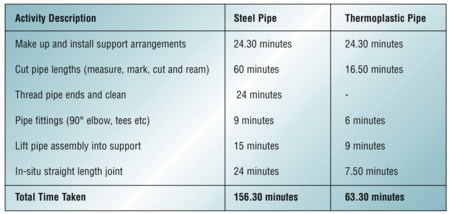 Thermoplastic pipework can be installed over twice as quickly as threaded steel pipe. This example is based on the time required to install a 6 m length of 32 mm pipework including three fittings.
In the case of jointing methods, despite the obvious benefits of solvent welding, Durapipe UK has noticed that short cuts are occasionally taken to make up time or try to get ahead of schedule. This may save time during installation but can become extremely costly for the end client after the installation is complete, if the original joints were not completed accurately and cause leaks at a later date that require expensive repairs.
Important don'ts
It is important that contractors and installers are educated on the impact that omitting steps or not complying fully with the correct jointing procedure can have on the performance of the pipework over its lifetime. The following points are most commonly disregarded, but can be the most crucial to ensuring an accurate joint. • Do not joint in wet or rainy conditions. • Do not use dirty brushes. • Do not use dirty or oily cleaning cloths. • Do not leave burrs on the end of pipe. Although plastic pipework is significantly easier to install and does not require as much skill as traditional materials, it is still recommended that basic training is undertaken. Reputable pipework manufacturers offer customers on-site training and a technical support hotline for assistance whilst onsite, as well as a step-by-step guide on jointing methods. Provided these steps are followed, solvent welding offers a high-quality joint that will last the life of the product. The quick and efficient installation of pipework is integral to any building-services development, but to achieve the ultimate standards, pipework needs to be considered at the specification stage. If factors that impact on the installation process are considered at the outset, contractors can be assured that installation will be contained to an acceptable timescale without compromising on the long-term performance of the system.
Martyn Rowlands is with Durapipe UK, Walsall Road, Norton Canes, Cannock, Staffs WS11 9NS.
Related links: